Jermaine Anderson: Peterborough United withdraw contract offer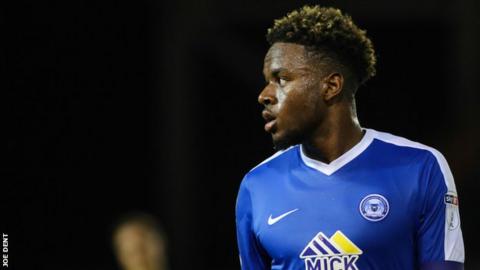 Peterborough United have withdrawn their contract offer to midfielder Jermaine Anderson, according to director of football Barry Fry.
The 21-year-old has one year left on his deal at the ABAX Stadium.
Anderson is currently sidelined with his second serious knee injury in as many seasons.
"His agent is in cuckoo land. How he expects any club to pay the demands for a player that's hardly played in the last two years I don't know," said Fry.
"He's got great faith in his client's ability, we all have, but the only problem we have is will he be fit enough to play the large percentage of the games, because the last few years he hasn't."
Anderson was named the Football League's Young Player of the Month in November 2015 and was being touted for a move to a higher division, before he suffered his first season-ending injury.
He returned to fitness in pre-season and made nine appearances this term before an injury to his other knee saw him miss the remainder of the campaign.
"It's up to Jermaine to work hard, get fit, get himself in the team, prove he's not injury prone again and then at a later date we'll sit down and offer him a new contract, or not," Fry told BBC Radio Cambridgeshire.
"We've been told by the medical people he won't be back playing until October or November.
"That only gives him six months left of his contract and if he doesn't play that'll be the last three years he's hardly kicked a ball and nobody will touch him."