Africa Cup of Nations: Madagascar and Libya open qualifiers with wins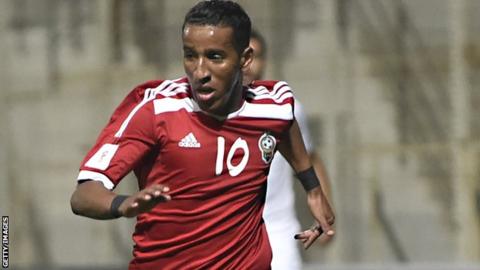 Libya and Madagascar opened the 2019 Africa Cup of Nations qualifying campaign with impressive victories on Friday.
Libya began their campaign with a 5-1 win in Tunis against Seychelles in Group E.
The match had been switched from Libya to Tunisia for security reasons.
In the first qualifier for Cameroon 2019, Madagascar were 3-1 winners away to Sudan in Al-Obeid.
Libya's dominance over Seychelles began in the 23rd minute as Anis Mohamed Saltou fired the Mediterranean Knights ahead.
Ahmad Benal added the second from the penalty spot four minutes later with Hamdou El Houni (pictured) scoring the third on the stroke of half-time.
Mohamed Zubya scored the fourth after 66th minutes and Muaid Ellafi made it five towards the end.
Leroy Coralie scored a late consolation goal for Seychelles.
Nigeria will host South Africa in the other Group E game in Uyo later on Staurday.
2019 Nations Cup qualifiers (all times GMT)
Friday:
Grp L: Cape Verde v Uganda (1730)
Grp A: Sudan 1-3 Madagascar
Grp G: DR Congo v Congo (1730)
Grp E: Libya 5-1 Seychelles
Grp I: Burkina Faso v Angola (1800)
Saturday:
Grp C: Mali v Gabon (1900)
Grp B: Malawi v Comoros (1230)
Grp A: Senegal v Equatorial Guinea (2000)
Grp C: Burundi v South Sudan (1300)
Grp H: Ivory Coast v Guinea (2000)
Grp K: Zambia v Mozambique (1300)
Sunday:
Grp I: Botswana v Mauritania (1330)
Grp G: Zimbabwe v Liberia (1300)
Grp B: Cameroon v Morocco (1400)
Grp H: CAR v Rwanda (1400)
Grp J: Niger v Swaziland (1500)
Grp D: Benin v The Gambia (1500)
Grp K: Guinea-Bissau v Namibia (1600)
Grp F: Ghana v Ethiopia (1530)
Grp E: Nigeria v South Africa (1600)
Grp D: Algeria v Togo (2100)
Grp F: Sierra Leone v Kenya (1630)
Grp J: Tunisia v Egypt (2200)
Grp L: Tanzania v Lesotho (1700)
Madagascar kicked off the 2019 Africa Cup of Nations qualifying campaign with a 3-1 win over Sudan in Al-Obeid as France-based Faneva Andriatsima bagged a brace.
Andriatsima opened the scoring for the Islanders when he broke into the heart of defence to rifle home from close range in the 15th minute.
Carolus Andriamahitsinoro won and scored a penalty to double the lead in the 62nd minute.
Atahir pulled one back for the home side nine minutes later, but Andriatsima completed his brace with six minutes left to seal a comfortable away win.