CAR seek Nations Cup inspiration from Guinea Bissau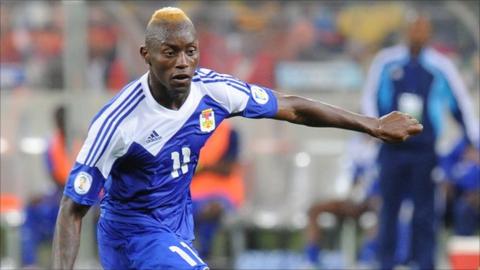 Central African Republic (CAR) are seeking to emulate Guinea Bissau and qualify for their first Africa Cup of Nations finals in 2019.
Midfielder Franklin Anzite told the BBC that Wild Dogs proved by being at this year's tournament in Gabon that "there are no small teams in football any more".
Currently ranked 129 by Fifa, CAR begin their campaign for Cameroon 2019 on Sunday when they host Rwanda in Bangui.
The other teams in qualifying Group H are Ivory Coast and Guinea.
"I think we really have a chance to qualify because we'll play the first game at home, and the last game will be at home too," said Anzite, who is based in Malaysia where he plays for University Technology MARA FC.
"The most difficult game will be against Ivory Coast and whilst it's not easier than before, we have a better chance of qualifying this time."
The mineral-rich country has been unstable since its independence from France in 1960.
Religious conflict between the Muslim minority and Christian majority has claimed thousands of lives and forced the national team to play matches outside the country.
But as the country is currently undergoing an internationally supervised transition, international matches are taking place in Bangui once more.
"Playing our home matches away was very difficult because we didn't have our fans behind us," said the 31-year-old midfielder.
"Now we have the chance to play three games at home so I hope we can do it, the sport can change many things in our country.
"It's not only on the pitch but we need everything around the team to be organised, and the government must help us more than they did before."