Manchester United: Guillermo Varela's new tattoo costs him Eintracht future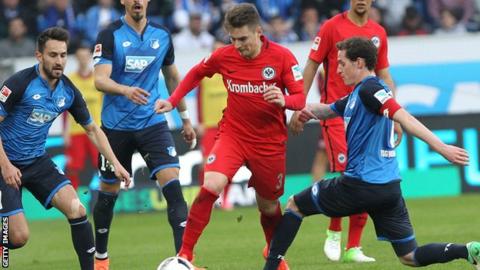 Guillermo Varela has been suspended by his loan club Eintracht Frankfurt and told to go back to Manchester United after getting a tattoo against orders.
Varela, 24, got the artwork on Monday - before Saturday's German Cup final - and his arm suffered an inflammation.
"The club cannot tolerate that a player would defy instructions," said sporting director Fredi Bobic.
"We'd been thinking about a loan extension. But that won't happen. He'll be suspended with immediate effect."
The Uruguayan, who joined United in 2013, has only made 10 competitive appearances for the Bundesliga side since joining them on a year-long loan last summer.
However, he had featured in the past five league and cup games.
Eintracht play Borussia Dortmund in the DFB-Pokal final at Berlin's Olympiastadion.
Former Eintracht Frankfurt player and manager Rudi Bommer told BBC World Service he thought Varela's actions were "unprofessional and embarrassing".
He added: "I am struggling to make any sense of it, I am struggling to believe it. You're a professional and you know the cup final is happening.
"I cannot understand his decision-making at all but I can understand [manager] Niko Kovac's decision to suspend him."