Tottenham: Mauricio Pochettino says he is staying at the club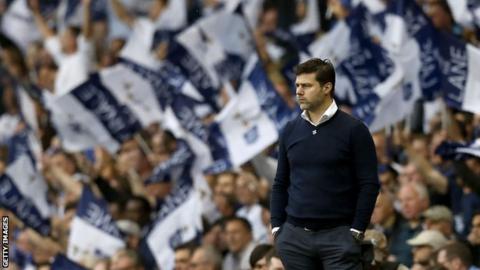 Tottenham manager Mauricio Pochettino says he is committed to staying at the club and has denied reports of a buy-out clause in his contract.
The 45-year-old Argentine has been in charge at Spurs since joining from Southampton in May 2014 on a five-year deal.
In May of last year he signed a contract extension which commits him to the club until 2021.
"There are many rumours, but I am committed with the club," he said.
"There is no reason to leave. I will be here for pre-season. There is no buy-out clause in my contract, I will stay here next season."
Earlier in the season, speculation grew that Pochettino was being considered for the soon-to-be vacant manager's job at Barcelona after he met with the club's president.
However, ex-Espanyol coach Pochettino later said the position would be "impossible" for him to take.
"I'm an Espanyol supporter - I think then I don't need to speak too much," he said, highlighting the rivalry with city neighbours Barca.
Spurs, who on Sunday played their final game at White Hart Lane, are guaranteed to finish second in the Premier League this season, their highest finish since 1963.