Uefa: Research shows links between football and self-confidence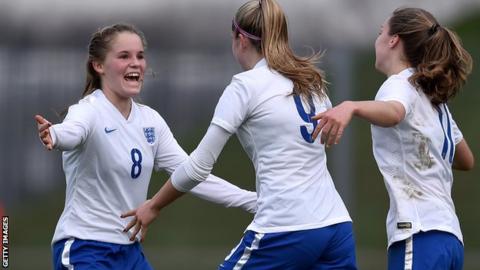 Football helps increase teenage girls' self-confidence more than other sports, research commissioned by Uefa suggests.
The study involved 4,128 females aged 13 and over in Spain, Denmark, England, Germany, Poland and Turkey.
Eighty per cent of teenage female footballers said playing made them feel more confident, compared to 74% of those who practise other sports.
Fifty-eight per cent said they had overcome a lack of self-confidence as a result of playing football.
That compared with 51% of teenage girls who play other sports.
Uefa's women's football advisor Nadine Kessler said: "This study shows that girls who play football have greater self-confidence than those who don't play the game.
"I can't emphasise enough how important this is when you are growing up. I am certain that we can change perceptions and make it cool for teenage girls to play football.
"If we manage to achieve this, we will be on our way to achieving our goal of making football the number one sport for girls around Europe."