Garth Crooks' team of the week: Alexis Sanchez, Mesut Ozil, Gabriel Jesus, David Luiz
Last updated on .From the section Football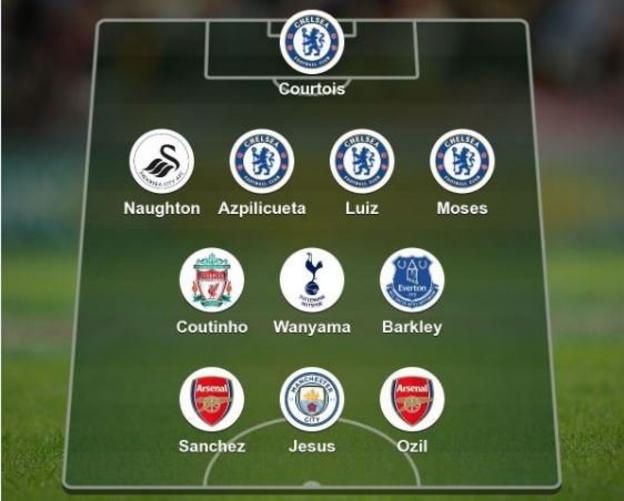 It was the weekend when matters at the top and bottom of the Premier League were finalised.
Antonio Conte's Chelsea beat West Brom to become Premier League champions thanks to substitute Michy Batshuayi's late winning goal.
At the bottom, Hull were relegated back down to the Championship with a whimper after being thrashed by Crystal Palace, joining Middlesbrough and Sunderland in the second tier next season.
Liverpool trounced West Ham to move up to third and keep their Champions League destiny in their own hands, but there were wins for Manchester City and Arsenal too.
Do you agree with my selection or would you go for a different team? Why not pick your own team of the week from the shortlist selected by BBC Sport journalists and share it with your friends?
Goalkeeper - Thibaut Courtois (Chelsea)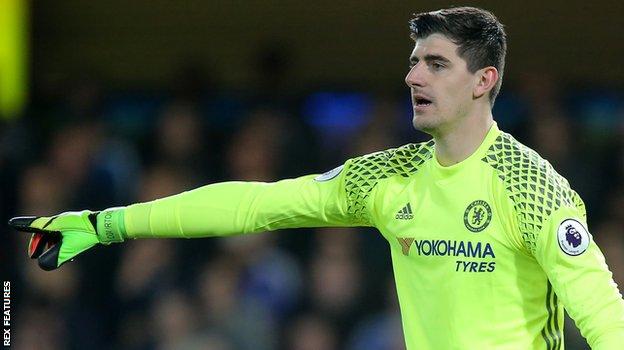 You cannot win Premier League titles without having an outstanding goalkeeper. Last season, Courtois found life difficult at Stamford Bridge and Chelsea paid a hefty price. This season the Belgium international has been immense.
Against West Brom, Courtois made a crucial save in the early exchanges to stop Salomon Rondon from opening his account. Such a start for the Blues would have been a nightmare but Courtois was bang in form and stuck to his task brilliantly throughout.
Only Arsenal now stand between Chelsea and a league and FA Cup double but Courtois is a world-class keeper and domestic doubles are fine but for him it must be about Champion League titles.
Defender - Kyle Naughton (Swansea)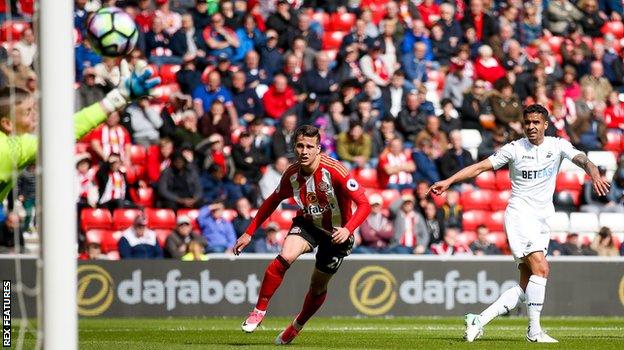 If you are going to score your first goal for the club you might as well make it memorable. You are away from home, desperately needing a win in order for your team's campaign to remain on track and you come up with your best strike of the season.
The look on Kyle Naughton's face when his shot screamed past Sunderland goalkeeper Jordan Pickford was as though he had just won the lottery. That said, Swansea survived this relegation battle to stay in the Premier League and it will feel like it.
Swans manager Paul Clement continues to inject great belief in his players. I distinctly remember a pundit claiming that Clement was lucky to have got the job in the first place. Admittedly, his dalliance with Derby County ended badly and his reputation as a coach is currently better than his credentials has a manager but Clement has brought something quite unique with him to the club.
Alongside first team coach Claude Makelele - who you would have thought has bigger fish to fry - there appears to be a mental strength matched with a certain courage I have not witnessed amongst Swansea players since the days of Brendan Rodgers. We all need a little luck every now and then but it would seem Paul Clement and Swansea are making their own.
Defender - Cesar Azpilicueta (Chelsea)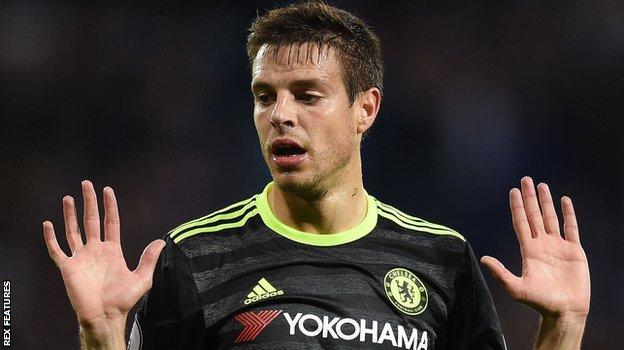 What a season this player has had. I remember him starting his career at Chelsea and having to play as a left-back. He coped brilliantly well considering he was naturally right-footed and while he solved the club's left-sided problem post Ashley Cole, he could not really show his true potential.
Since the arrival of Antonio Conte, Cesar Azpilicueta has not merely shown his true potential but realised it. The versatile defender produced a world-class performance against West Brom at The Hawthorns and what a time to do it. He was imperious in defence and creative in attack. It was Azpilicueta's cross that provided the opening for Michy Batshuayi to slide the ball home.
What he was doing so far up the field in open play tells you all you need to know about the commitment and desire of the Spain international. However, when you study his season, he has been ever present and quietly got on with his job. This was a brilliant performance by a player who has become a world-class defender under Conte.
Defender - David Luiz (Chelsea)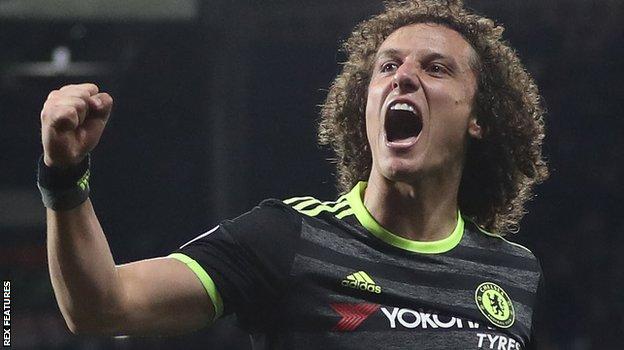 This was the player who originally arrived at Stamford Bridge in a blaze of glory and left with his tail between his legs. I remember his first game against Fulham when he had a fantastic debut and scored the most impressive goal. However, Italian manager Carlo Ancelotti's second season in charge didn't turn out too well for Chelsea and David Luiz seemed to take the blame for the demise.
A spell away from the Bridge taught him that when you are a top-class defender, you don't have to do anything out of the ordinary to prove it - just defend. That is precisely what he did against a West Brom side desperate to rain on Chelsea's parade and has been doing since his return. The Brazilian has been magnificent for the Blues this season.
No lollipops, or rabonas, but he did everything in his power to protect his goalkeeper. Who would have thought that simple, good old-fashioned defending would win you titles in the modern era.
Defender - Victor Moses (Chelsea)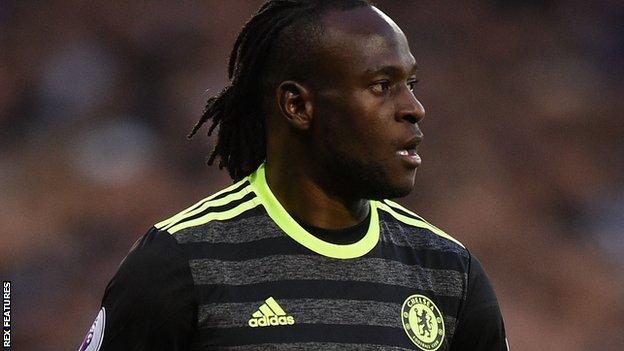 The screams of delight by Victor Moses as he embraced Batshuayi after the striker secured victory at The Hawthorns was a compelling sight. Here were two young men who had just realised they had won the Premier League title and at the same time embedded themselves into Chelsea folklore. Did either of them ever think at the beginning of this season that they would be sharing in such a momentous occasion? I doubt it. Yet here they were revelling in the moment.
Moses has been a revelation for Chelsea this season, partly due to his ability to adapt to a system few thought would be successful in the Premier League never mind win the title, and the consummate manner in which he has made the position his own. Moses could have won the Chelsea the title himself when he brought a fantastic one-handed save from Ben Foster.
Sir Winston Churchill said "we have a small time for celebration" immediately after the Second World War and I fear Antonio Conte has even less time to prepare Chelsea for the demands of European football and a relentless season ahead. Moses has now won a Premier League title and I would not bet against him adding a Champions League medal to his collection very soon.
Midfielder - Philippe Coutinho (Liverpool)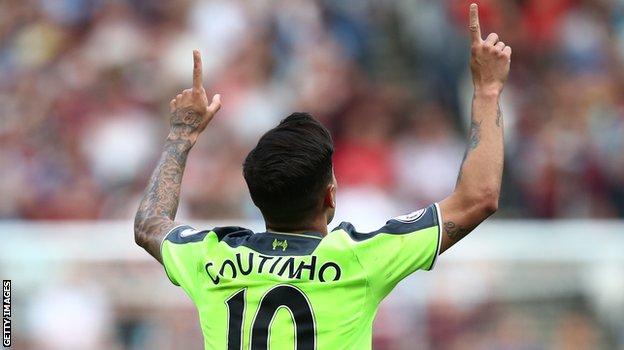 This was another sparkling performance by the Brazilian and it takes Liverpool a step closer to that elusive Champions League spot. I dread to think what Reds manager Jurgen Klopp would have done without the services of Coutinho.
Nevertheless, they have the Brazilian star and he has been superb this season. Players like Xabi Alonso and Steven Gerrard have been instrumental in creating special Liverpool teams. Well, this current team is not that special but Coutinho is and Klopp must protect him.
Midfielder - Victor Wanyama (Tottenham)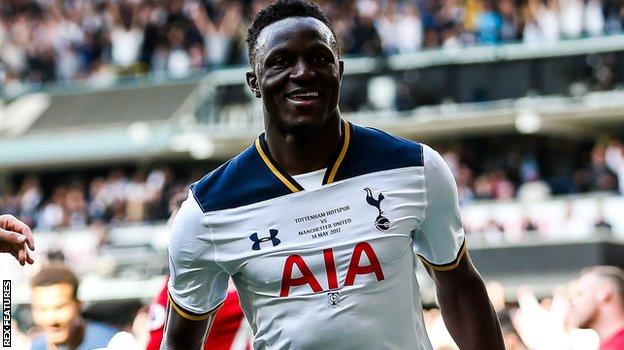 The flags were waving and the fans singing and that was before Victor Wanyama added to the carnival atmosphere at White Hart Lane. The cross by Ben Davies was only matched by the glorious header from the Kenya international. Spurs would have gone on and knocked Manchester United clean out of the park but for some sound goalkeeping by David de Gea, the best in the world in my opinion.
Wanyama has spent most of the season overshadowed by some wonderful performances from Christian Eriksen but the Denmark international found himself playing second fiddle to an authoritative Wanyama bossing events in midfield. Tottenham deserved this victory but chants from the United fans stating Spurs "nearly won the league" is a timely reminder of what the really big clubs consider important.
Midfielder - Ross Barkley (Everton)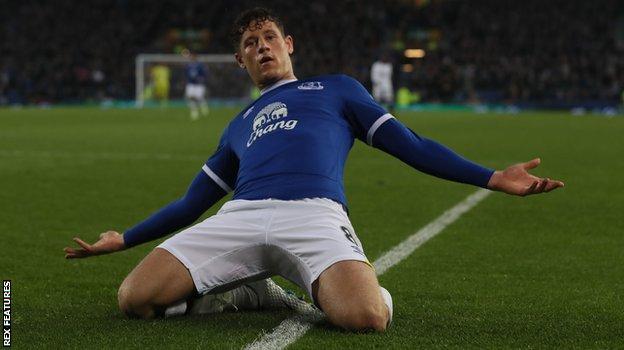 How interesting. There have been two performances by Ross Barkley that have stood out for me. His game against Burnley where he was outstanding and at the heart of a superb Everton victory, and against Watford on Friday when he came off 10 minutes from time to a standing ovation. On both occasions, the England international had, for one reason or another, a very difficult week preceding the respective fixtures.
The first issue subjected Barkley to tawdry remarks in a national newspaper while the second matter was the ultimatum given to him by his manager Ronald Koeman. Sign your contract or leave seems to be the message. When a manager gives a player an ultimatum like that he better hold all the aces. But in this case, Koeman does not because if the rumours are true and Spurs are interested in Barkley, then the player has the perfect get-out clause.
Whatever the outcome of this contractual situation, it is in Barkley's best interests not to wait for bad news to spark him into providing his best performances but to start creating the news himself. That is what the best players do and if he does go to Spurs, which I think is quite possible, he will be expected to do just that.
Forward - Alexis Sanchez (Arsenal)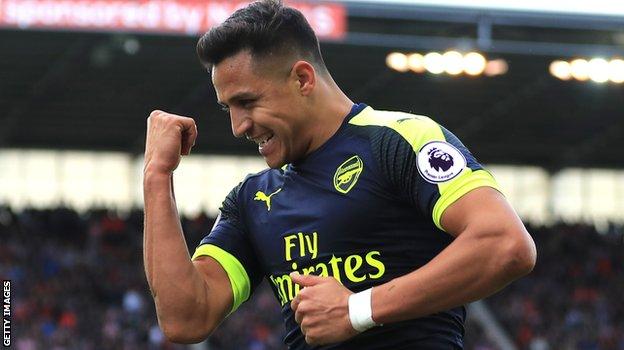 Regardless of whether Arsenal manager Arsene Wenger goes or stays, it will not have the same bearing on the club should they lose Alexis Sanchez. Not only is the Chilean a genuinely world-class footballer, he is the inspiration behind the team and has been for the best part of this season. His performance against Southampton in midweek, not to mention his goal, was simply superb.
He then turns up at Stoke on Saturday, no place for the faint-hearted, and destroys them. Sanchez's link-up play with Mesut Ozil, when the German is in the mood, is like watching Trevor Brooking and Kevin Keegan when they played for England - they just know where each other is. It clear to me that Arsenal Football Club have some big decisions to make about who stays and who goes. For my money, Sanchez stays. You can work the rest out.
Forward - Gabriel Jesus (Manchester City)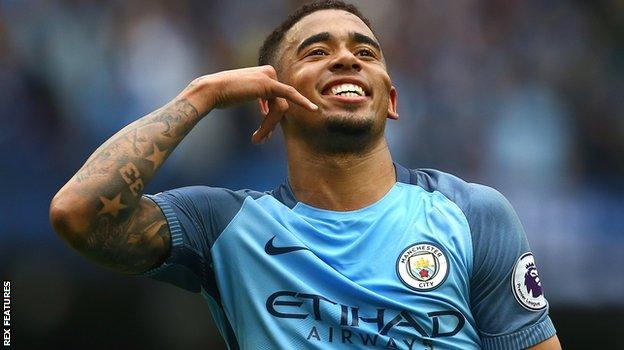 I could not believe my eyes when Gabriel Jesus took the ball and insisted that he was going to take the penalty against Leicester on Saturday. Like every decent senior professional, who sees the next generation with the confidence to take command of a situation, Yaya Toure gave way to youth. Why shouldn't the twice former African player of the year be magnanimous in such circumstances? When you have had the sort of career Toure has had, the least he can be is gracious.
Regardless, Jesus seemed absolutely determined to make a statement. Sitting on the bench, of course, was Sergio Aguero, a world-class striker, even by Alan Shearer's standards. It was clear to see Jesus had to make the point to Aguero and manager Pep Guardiola that he is ready to assume the mantle of top dog. Putting the ball into the back of the net was tantamount to making that point.
What was interesting was the way Toure and his team-mates gathered round Jesus to congratulate him on converting the penalty almost like a graduation moment. The players were not entirely sure he would pass the test but mighty relieved that he did. Based on what I saw it looks like, Jesus might be the future and Aguero the past.
Forward - Mesut Ozil (Arsenal)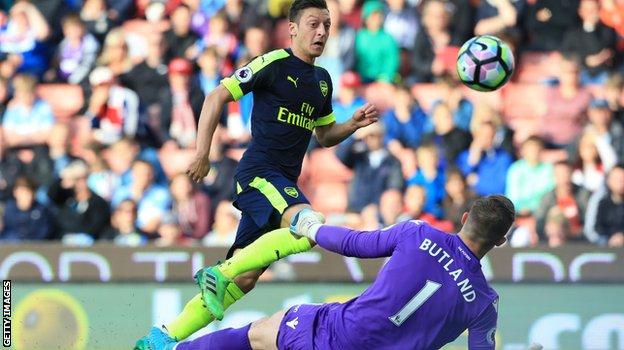 A lot has been said about Mesut Ozil. Love him or hate him - and I love him - there is no denying he is a wonderful footballer. Is he in the right team? Probably not. A player with his talent would be more appreciated at a club like Tottenham. Now at this moment I may have Arsenal fans foaming at the mouth at the very thought of Ozil defecting to White Hart Lane but frankly it is a better fit.
When Sol Campbell decided to move to Arsenal from Spurs it was because the player was desperate to win trophies. A perfectly acceptable position for a professional footballer to take and a fact that Spurs fans have never been able to come to terms with. However, Ozil's style of football is perfect for Spurs and he has already won things with Arsenal. His overall performance against Stoke, which is always a hard nut to crack, was superb while his goal was sublime.
Only at Spurs will the fans accommodate players like Ozil. You see, at Spurs it is all about the football while at Arsenal it is all about the winning.