Arsene Wenger: Arsenal boss 'not influenced' by plane banner at Stoke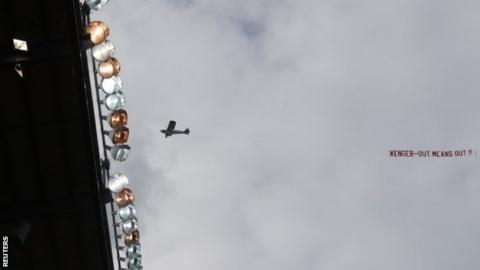 Arsenal boss Arsene Wenger said he was "not influenced at all" by a banner flown above the Bet365 Stadium saying 'Wenger - out means out'.
The Gunners beat Stoke 4-1 on Saturday to move one point behind fourth-placed Liverpool.
Sections of the club's support have called for Wenger, who is yet to announce his future plans, to leave.
The 67-year-old said: "I want to focus on football and all the rest is, for me, less important."
Wenger, who is out of contract at the end of the season, has been in charge of Arsenal since 1996.
He led the club to two league and cup Doubles within the first six years, but they have not won the Premier League since 2004 and have only won two trophies - the FA Cup twice - in the past 12 years.
Olivier Giroud scored twice in the victory at Stoke, with Mesut Ozil and Alexis Sanchez also on target.
Wenger said: "I am paid to do my job for a club I love. I will do that as long as I am here, with full commitment, and I am not influenced by that at all.
"I am not in politics, I am in sport. I love sport, I give 24 hours a day for what I love and all the rest - I am in a public job, some agree with me, some do not."
When told about reports in France suggesting he will sign a new one-year deal, he said: "There is no information about that, nothing."
Match of the Day analysis
Former Arsenal striker Ian Wright: "People are saying that when the pressure is on Arsenal don't react. But in the last few games they have reacted to being out of the Champions League places.
"I believe if they win the FA Cup that's got to be a good season. You've got to take silverware."