Jersey Portuguese could face league expulsion after 'brawl'
Last updated on .From the section Football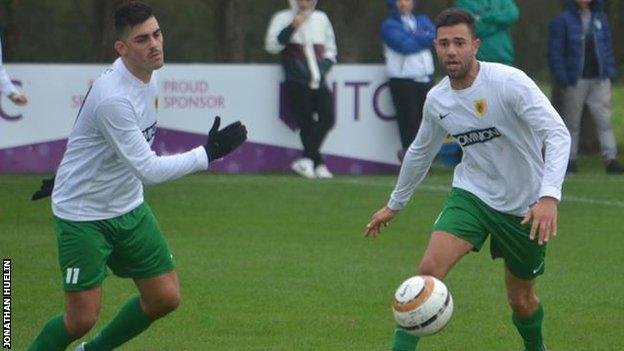 Jersey Portuguese face expulsion from Jersey football after an alleged breach of terms of a suspended sentence for previous disciplinary problems.
The Jersey Football Combination, which runs the island's league, is investigating after a "brawl" near the end of a game last month.
A panel will now consider the referee's report from their 5-2 defeat by St Ouen on 4 March.
Portuguese club president Luis Vieira declined to comment.
After walking off the pitch in protest at a controversial goal last season, Portuguese were warned that any further trouble before the end of the 2017-18 campaign would result in their suspension.
"I'm not going to tolerate it," league president Charlie Browne told BBC Radio Jersey.
"I'm disappointed that it's come to this stage and our next stage it to talk to them and make it clear that this is serious.
"The referee's report is not very nice reading, to be honest with you. It was like a brawl between both teams."
Portuguese have finished bottom of the island's Premiership, having claimed just two wins from their 21 league games and, if allowed to continue, will play in the Championship next season.
They lost their final game of the campaign 12-0 against St Peter.
"We need to know all the facts. They're not in a good place at the moment and it just looks like they've lost their way a bit," added Browne.
"The committee members are honourable people. I do feel sorry for them and I actually feel sorry for the Jersey Portuguese community, because they offer so much to local football.
"It's got to stop because somebody is going to get seriously hurt. It's not come to that, but we've got to prevent it."