Copa Libertadores: Palmeiras' win over Penarol is marred by trouble
Last updated on .From the section Football
A mass brawl marred the end of a Copa Libertadores game and Palmeiras claimed their players were deliberately stopped from leaving the pitch by Penarol.
On-loan Inter Milan midfielder Felipe Melo responded with punches when he and Palmeiras keeper Fernando Prass were chased by players from the home team.
Brazilian champions Palmeiras came from 2-0 down to beat the Uruguayans 3-2.
Palmeiras coach Eduardo Baptista said: "When we tried to leave the tunnel was closed and security guards stopped us."
He added: " Our own security got us off the field and stopped something worse happening. It's lamentable. It could have been much worse."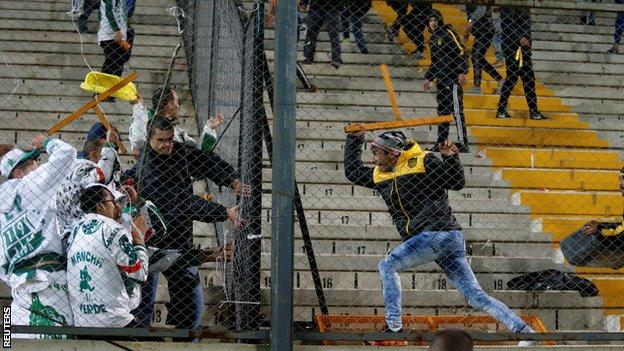 Trouble also broke out in the crowd in Montevideo, Uruguay, after Palmeiras beat Penarol for the second time this season in the South American equivalent of the Champions League.
Former Galatasaray and Juventus midfielder Melo, 33, had accused some Penarol players of racist abuse when they met in Sao Paulo on 13 April, a game which Palmeiras also won 3-2.