Garth Crooks' team of the week: N'Golo Kante, Dele Alli, Willian and Benteke

By Garth Crooks
Football analyst
Last updated on .From the section Football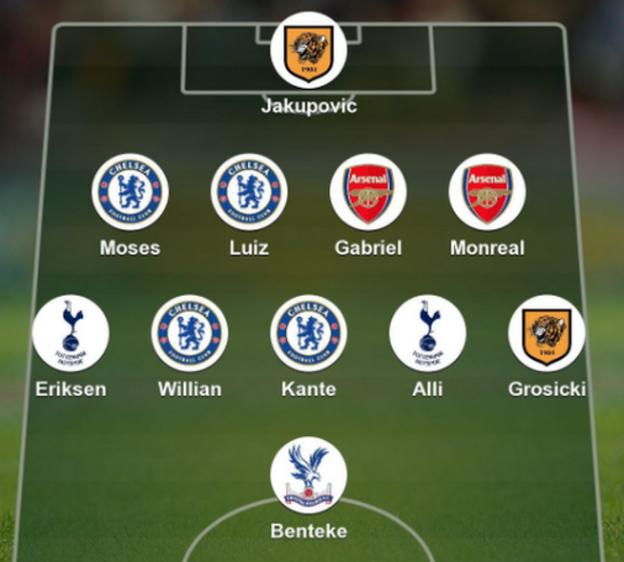 Chelsea and Arsenal are heading to the FA Cup final at the expense of Tottenham and Manchester City, who could be facing a trophy-less season - Pep Guardiola's first as a manager.
Meanwhile, in the Premier League, Hull gave themselves a big survival boost against Watford and one Crystal Palace player got revenge over former club Liverpool.
Goalkeeper - Eldin Jakupovic (Hull City)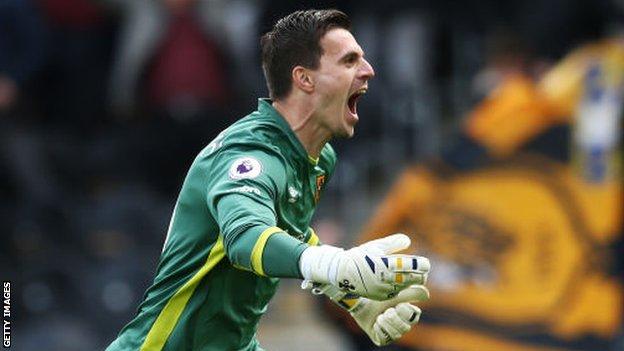 The save by Eldin Jakupovic from Sebastian Prodl's header was brilliant, but the keeper's block on Etienne Capoue's point-blank shot with his right boot was a game changer.
Hull had no right to win this game against Watford and it is commendable and perfectly understandable that Troy Deeney, the Watford captain, took it upon himself to go over to the Hornets supporters and apologise for such an abject performance. Regardless of this, Hull could have taken the easy way out and thrown in the towel because of the injustice of Oumar Niasse's dismissal by referee Bobby Madley, but they didn't.
Last week I went out of my way to commend Madley for the way he handled the feisty encounter between Manchester United and Chelsea, and the way he resisted the compulsion to over officiate. Well, you could have blown me down with a feather (and Niasse, by the look on his face) when he gave the Senegal international his marching orders. It was barely a yellow card.
Nevertheless, Jakupovic and the entire Hull team kept their composure and produced the result that could keep them in the Premier League.
Defender - Victor Moses (Chelsea)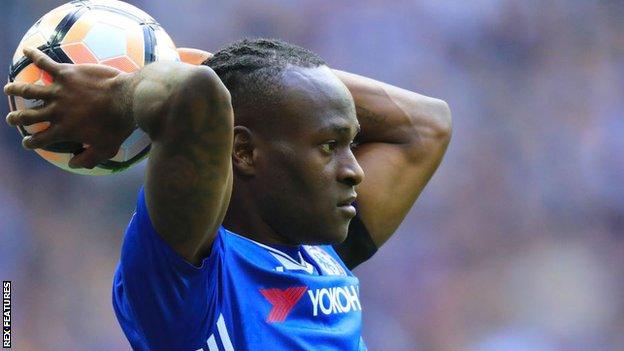 What a revelation Victor Moses has been for Chelsea this season. We all know he can play when he has the ball at his feet but few would have credited him as a player capable of holding down a position with such serious defending responsibilities.
His performance against Tottenham's Son Heung-min in the FA Cup semi-final was impressive. Moses outsmarted the naïve Son, who went to ground far too early in the box, allowing Moses to take advantage of the inevitable contact for a penalty.
The former Crystal Palace winger has come a long way since his days as a loan player with Stoke, Liverpool and West Brom. Since the arrival of manager Antonio Conte he has looked supreme at wing-back for the Blues. Occasionally you find players who can make the transition from one position to another but it's very seldom you find a player who makes his name performing a particular function, but then becomes an even better player when asked to perform another role. Moses has become that player.
Defender - David Luiz (Chelsea)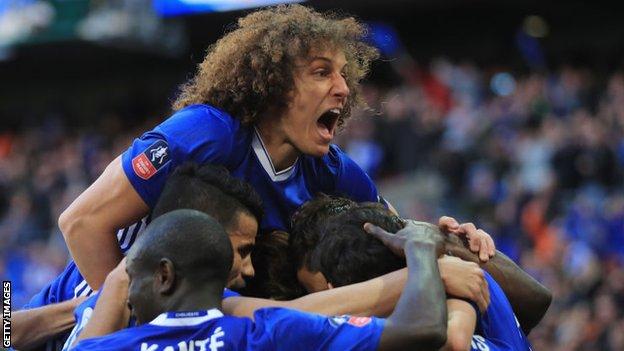 This was a terrific FA Cup semi-final and one that needed players on the pitch with a lot of nerve. John Terry might be planning his exit strategy but what do Chelsea care? They have a new leader on the pitch and his name is David Luiz.
He got the run around last week against Marcus Rashford at Old Trafford, but not so against Spurs. In the absence of captain Gary Cahill, this was a sensational performance by the Brazil international. Yes, he was exposed by the 'pass of the season' by Christian Eriksen for Dele Alli to equalise but there isn't a defender on the planet who could have defended that ball.
Luiz's performance can only be matched by the decision-making of boss Conte. To leave out Eden Hazard and Diego Costa, two of his best players, for an FA Cup semi-final takes some courage but it also presented their replacements with an opportunity to shine and that's precisely what they did - especially Willian. I said that Chelsea could do the Double and I saw nothing against Tottenham to change my mind.
Defender - Nacho Monreal (Arsenal)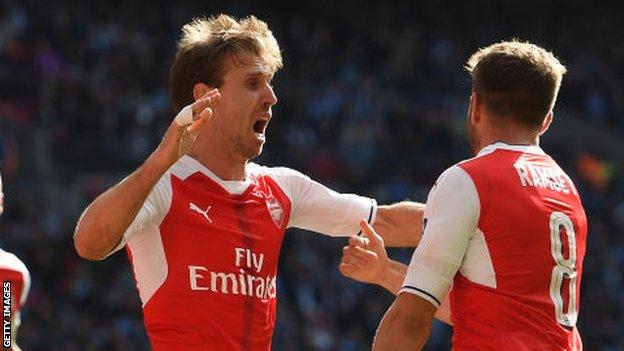 Well, who would have believed that Arsenal would have beaten Manchester City in an FA Cup semi-final, considering the turmoil at the club in recent weeks? All credit to the players and manager for putting personal differences to one side and getting on with the business of playing football.
The player who has impressed me during the difficult times at the Emirates has been Nacho Monreal. He always appears to play the game as though his life depends on it - regardless of the circumstances. Monreal wouldn't rank in my top 10 all-time Arsenal full-backs but against Manchester City that didn't matter. He did what he always does and that is stick to the task. However, what I don't expect to see from Monreal are big goals in the big games.
With Liverpool losing at home to Crystal Palace, Arsenal could still win the FA Cup and finish fourth. This win against City was a big result for Arsenal in more ways than one.
Defender - Gabriel (Arsenal)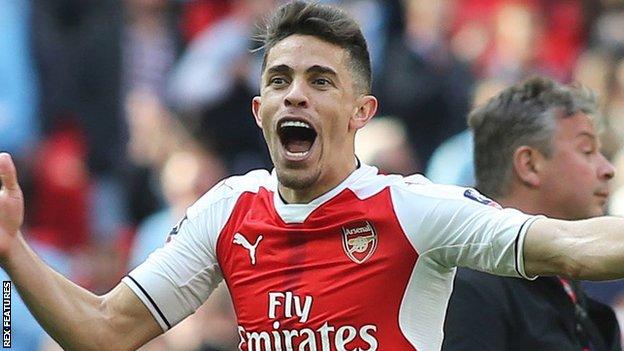 I've never been completely convinced by Gabriel as a top-class defender but against Manchester City he was superb. For me he always seems to be a tackle away from a sending-off but he was disciplined and focused and not remotely interested in ugly confrontation. If Gabriel can take the petty squabbling with the opposition out of his game, and simply concentrate on his job, he could be a real asset for Arsenal.
The Gunners can now look towards an FA Cup final against Chelsea. Games against the Blues are often explosive affairs and we all remember the clash between Gabriel and Costa at Stamford Bridge - there's no love lost there. However Gabriel's performance at Wembley must have given Wenger food for thought and if the Arsenal manager can trust the Brazilian in the really big games, he could be the difference between Arsenal winning the cup or not.
Midfielder - Christian Eriksen (Tottenham)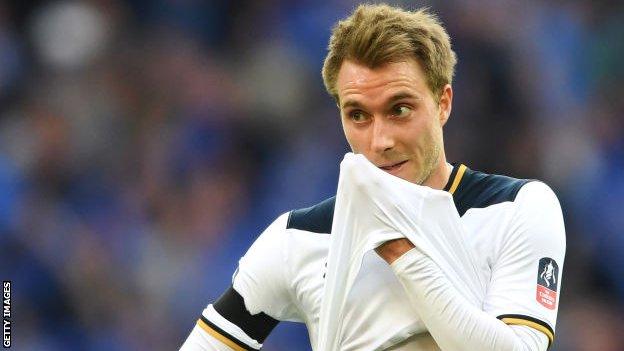 I have seldom seen players who have such technical ability and yet remain so unobtrusive. Former Spurs players who have adopted the mantle of playmaker, like Paul Gascoigne and Glenn Hoddle for example, would demand the spotlight and if they weren't getting it they would do something quite extraordinary to ensure they did.
Not so with Christian Eriksen. Here is a lovely, almost gentle, footballer who goes about his work with the minimum of fuss. I have seen him produce wonderful moments in a game but nothing was as beautiful as the ball he produced for Dele Alli to equalise against Chelsea. The BBC commentator said it was the ball of the season and I wholeheartedly agree.
Co-commentator Danny Murphy went one better when he explained that it was one thing seeing the pass and something else entirely to execute it. Eriksen, as so often, did both.
Tottenham's game with Chelsea was fabulous and Spurs should count themselves unfortunate to have had so much possession and still lost the game. But if Tottenham are going to progress they have to develop a ruthless streak. They play the most glorious football, often orchestrated by Eriksen, but if they don't win something soon it could signal the break-up of a team and that would be a great shame.
Midfielder - N'Golo Kante (Chelsea)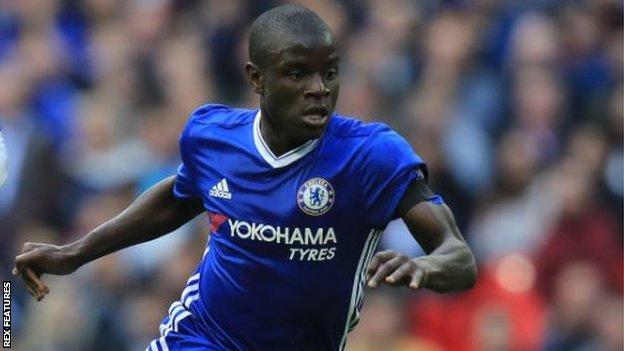 What another wonderful performance by the little man. Yes, it was Nemanja Matic who sealed Tottenham's fate with the most incredible strike but it was N'Golo Kante who kept Chelsea's head above water when Spurs threatened to drown the Blues with copious possession.
Kante must be a dream to work with. He provides no fuss or hysterics, he simply gets on with the job. Which is why I think Chelsea won this semi-final. Chelsea are prepared to sacrifice beauty for character and resilience.
That was no better illustrated than when Conte substituted Willian, his two-goal hero, for Hazard. The Italian was reluctant to take off Kante or Matic (who wasn't playing well), and Chelsea's two destroyers continued to frustrate and ultimately defeat Tottenham.
Kante has had another wonderful season and is on the verge of making history. It's one thing winning the Premier League title in consecutive seasons with different teams but he is now 90 minutes away from winning the elusive league and cup Double.
Midfielder - Dele Alli (Tottenham)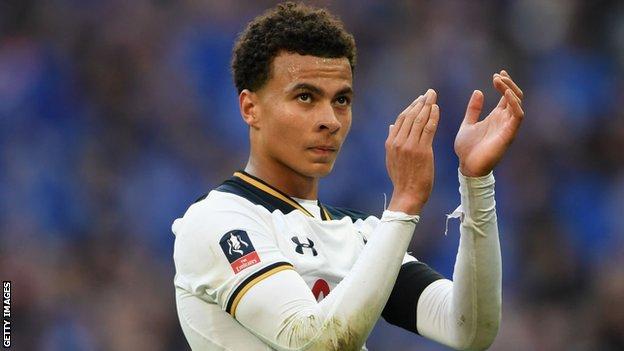 I've said before that this lad is on the verge of becoming something quite special. There are two features that characterise a special player in my opinion. Firstly, can he affect the big games? Secondly, is he comfortable on the big stage? If the answer is yes then the chances are you have a special talent on your hands, and that is precisely what Spurs have in Dele Alli.
His goal against Chelsea was dispatched with breathtaking beauty. The ball from Eriksen was special but it needed a special player to finish it. The only difficulty I see for Alli now is staying free from serious injury and continuing the steady progress. If Mauricio Pochettino can keep this team together (and it's a big if) trophies are inevitable. However it's Champions League football and upwards for this young man. Anything less just won't do.
Midfielder - Willian (Chelsea)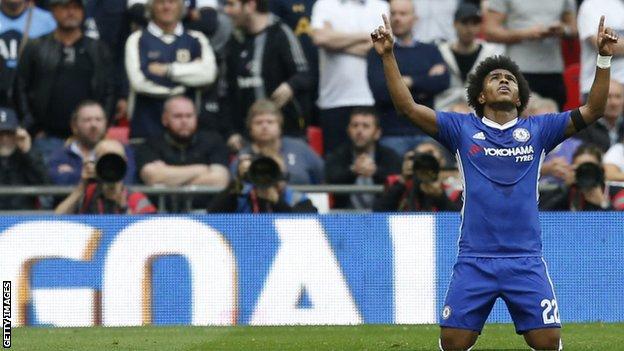 Many pundits were alarmed by the news that Conte had rested Eden Hazard for the FA Cup semi-final. In fact, I had just switched on Final Score and witnessed former Liverpool striker Dean Saunders say so. He went on to say that the omission of the Belgium international would give Spurs an unnecessary boost in confidence. I agreed with him. After all, who leaves out his best player in an FA Cup semi-final?
However, what we both missed in the hysteria was that Conte had Willian at his disposal. The Brazilian is a wonderful player and produced one of the performances of the season. His free-kick was absolutely superb and unlike my Match of the Day colleagues, I didn't think that Hugo Lloris was at fault for the goal. A dead-ball specialist like Willian is capable of putting it in either top corner so keepers are often at his mercy - and Willian showed Lloris none.
Likewise, his penalty was taken with such control and expertise it left me mesmerised. I have played in these games and I can assure you taking penalties on occasions like this is not for the faint-hearted. You get moments like this wrong and they can haunt you for a lifetime. Get them right and they can win you trophies. This was a wonderful performance by a wonderful player and we were wrong to doubt him. Conte didn't.
Midfielder - Kamil Grosicki (Hull City)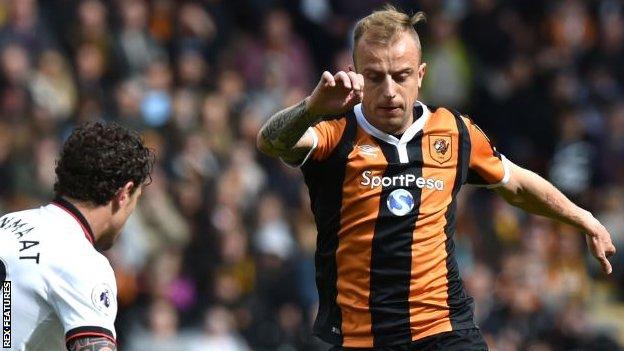 There were so many good performances in this Hull side against Watford. I could have selected the solid Harry Maguire, the tenacious Sam Clucas (great goal by the way) or Lazar Markovic, all of whom put in one hell of a shift.
However, I've gone for Kamil Grosicki. Apart from running himself into the ground, his composure and quality on the ball was very impressive. His pass for Markovic was simply wonderful, and epitomised just how important the Poland international was against Watford, and is going to be in Hull's remaining fixtures.
To win this game with 10 men, with Swansea breathing down your neck in a relegation battle, took some bottle. This result could be Hull's defining moment of the season. It's difficult enough trying to win with 11 men, never mind 10.
Which brings me to Marco Silva and the job he is doing at the KCOM Stadium. It's boarding on the unfathomable. Nineteen points out of a possible 21 at home is title-winning stuff. He hasn't just got the players believing in the impossible, but the entire city judging by the response of the fans.
Striker - Christian Benteke (Crystal Palace)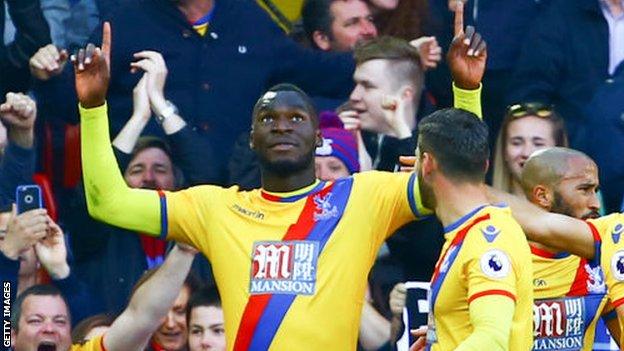 They say revenge is a dish best served cold. Well, Christian Benteke's two goals against Liverpool must have made former manager Jurgen Klopp shudder. It was Klopp, of course, who showed Benteke the door at Anfield and it's taken the striker some time to find himself again. Under Sam Allardyce, who likes centre forwards who lead the line and don't chase shadows, Benteke is looking like the striker who took the Premier League by storm at Aston Villa.
The Belgium international was also very respectful when he elected to keep his goal celebrations against Liverpool so muted, which was a nice touch. However, he had to work incredibly hard to conceal the smile. What satisfaction for the lad to go back to the club where he would desperately have wanted to be successful and show them what he can do. And well done Allardyce for bringing Benteke off moments before the end of the game so the Liverpool fans could show their respect and appreciation for the way Benteke had conducted himself throughout the match. That was also a nice touch.