El Clasico: Real Madrid midfielder Isco's time to shine against Barcelona?
By Andy West
Spanish football writer
Last updated on .From the section European Football39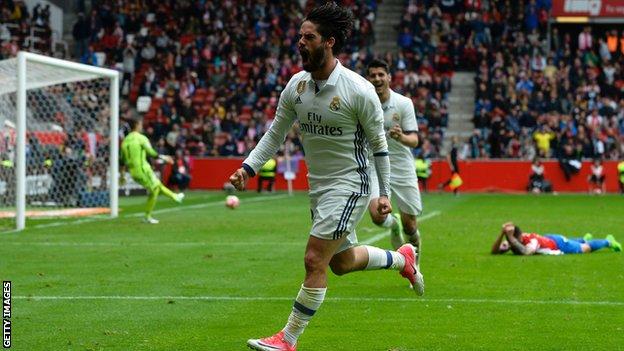 He might have been a boyhood Barcelona fan, own a pet dog named Messi and have been linked with a summer move to the Nou Camp a few weeks ago, but now Isco could play a key role in giving Real Madrid a major advantage in La Liga's title race at Barca's expense in Sunday night's Clasico at the Bernabeu.
Real head into the game three points ahead of their deadly rivals, and with a game in hand. Victory would therefore leave them six points clear with Barca, having just five games to make up the difference - and the gap would effectively be seven points because Real would also have head-to-head advantage, which is used to separate teams level on points in La Liga.
The home team could be without Gareth Bale, who was substituted in the first leg of the Champions League quarter-final against Bayern Munich with a calf injury and has not played since.
The most likely replacement for the Welsh star, if he is not fit to start after returning to training on Thursday, is Isco. The gifted and versatile attacking midfielder's outstanding recent form has suggested he is poised to finally achieve something he has never quite managed during his four seasons at the Bernabeu: becoming a firm fixture in the starting line-up.
That, of course, could have other significant ramifications because it would mean somebody else - perhaps even Bale - losing their place in the team.
Is Isco ready to shift the balance of power among the galaxy of stars at the Bernabeu? Let's find out more about a player who was once Spain's boy wonder but is still waiting to fulfil his enormous talent.
Star in the making
Having started his career with Valencia, making his debut in 2010 at the age of 18, Francisco Roman Alarcon Suarez - generally known simply as Isco - rose to prominence after moving to his hometown team Malaga in the summer of 2011.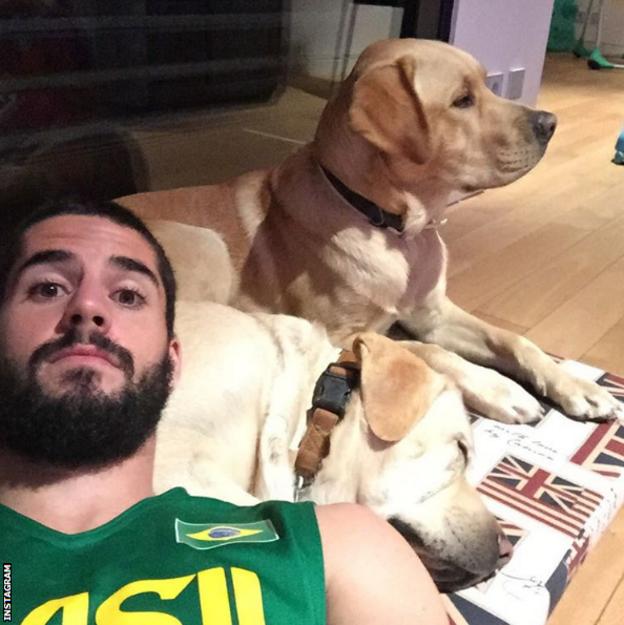 Alongside ageing stars such as Javier Saviola, Joaquin and Roque Santa Cruz, he played a key role as Malaga, managed by Manuel Pellegrini, marched to the 2012-13 Champions League quarter-finals, where they were unlucky to be knocked out after conceding two injury-time goals to Borussia Dortmund.
Isco's performances in that campaign saw him win the Golden Boy award for the best young player in Europe, and he also shone at international level by winning the 2013 European Championship with an outstanding Spain Under-21 team also containing Manchester United goalkeeper David de Gea, Atletico Madrid's Koke and current Real team-mate Alvaro Morata.
He was clearly too good to stay at Malaga, and in the summer of 2013 Real Madrid beat Manchester City, who had just recruited Pellegrini, in the race for his signature, splashing out 30m euros (£23m at the time) to secure his services on a five-year contract and make him the first signing for newly appointed manager Carlo Ancelotti.
At first Isco settled into life at the Bernabeu superbly, scoring the winner on his debut against Real Betis and quickly following up with a brace in another home win against Athletic Bilbao. The world seemed to be at his feet… but not for long.
Bale in, Isco out
Soon after Isco's arrival at the Bernabeu, a problem emerged - and that problem was called Gareth Bale, who was signed a few weeks later for a world record fee of 100m euros (£85m at the time) and needed to be accommodated in the team.
With Cristiano Ronaldo and Karim Benzema also guaranteed starters, Ancelotti had a serious selection issue on his hands. How could he field the Galacticos, whose status was untouchable without leaving his team unsustainably imbalanced?
The answer he eventually settled on, reluctantly, was omitting attacking midfielder Isco, who found himself gradually transformed from being Spain's brightest young talent into a peripheral presence whose only real hope of starting big games was somebody else being injured.
That led to a long and frustrating parade of endless ups and downs for Isco, whose silky ball skills made him hugely popular with fans both at the Bernabeu and around Spain, with the admiration he inspired most clearly evident in February 2015 when he played so well at Elche that even the home fans gave him a standing ovation.
Despite occasional flashes of brilliance, Isco was never quite able to permanently supplant any of the Galacticos from the starting line-up, and his frustration was encapsulated in Barcelona's last trip to the Bernabeu in November 2015: having been introduced from the bench by Rafael Benitez and with his team losing 4-0, he took a violent swipe at Neymar, deservedly earning a straight red card.
Barcelona-bound or Real revival?
For much of the current campaign, it appeared Isco's inability to fulfil his immense potential at the Bernabeu would force him out. Indeed, in February he revealed he was considering leaving Real in the summer because of his failure to gain more starts, admitting: "My future is at stake."

Controversially, one of the clubs heavily linked to his signature after that announcement was Barcelona, with a flurry of stories in the Spanish media speculating that Isco could follow Luis Figo, Samuel Eto'o and current Barca boss Luis Enrique by representing both clubs - a move which would make a fair amount of sense because he is perhaps the most natural heir to Barca's slowly fading captain Andres Iniesta.
But since then, Isco has been superb, especially last weekend at Sporting Gijon where he scored two brilliant goals, including a last-minute winner, to secure a 3-2 victory and keep his team top going into Sunday's Clasico.
That performance was rapturously received. Writing in Marca, Roberto Palomar was sufficiently moved to claim: "It's been a long time since we have seen such a recital from a player who wasn't Messi." Presumably he meant Messi the Barcelona player, rather than Messi, Isco's pet dog.
Tellingly, Palomar also argued that Bale's latest calf injury is "a solution, not a problem," because it means Isco can play - something many Real fans would love to see happen on a more regular basis.
Whether manager Zinedine Zidane feels the same way remains to be seen, but there's a growing sense that the long-standing policy of the 'BBC' front line (Bale, Benzema and Cristiano) automatically starting big games whenever they are available is facing a serious challenge.
And Isco, whose nine league goals this season put him level with Benzema and two ahead of Bale, could finally be ready to come of age.
Zidane's strength in depth
Despite last weekend's heroics, Isco is by no means guaranteed to start this weekend's Clasico because Zidane has several outstanding options.
They include hard-working winger Lucas Vazquez, Colombian ace James Rodriguez and fast-rising 21 year-old Marco Asensio, whose brilliant solo goal in Tuesday's Champions League victory over Bayern Munich underlined the impression that he is a major star in the making.
Indeed, the luxury of riches at Zidane's disposal reveals one of the key factors behind Real's edge over Barca in this season's title race: the gulf in squad depth at the two clubs.
Whereas Zidane can call upon two top-class performers in nearly every position, Barca coach Luis Enrique suffers from a serious drop-off in quality whenever one of his first team is injured or in need of a rest.
Barca's problems in that respect were first identified early in the season, when Enrique rested several players at home to newly promoted Alaves and his team lost 2-1, and the same pattern has re-emerged throughout the season.
The case of Andre Gomes is striking, with three of Barca's four league losses coming when the Portugal international was named in the starting line-up, while frontman Paco Alcacer has only scored five goals all season compared to 17 from Real's back-up striker Morata.
Zidane doesn't have such problems, and Sunday's Clasico could give the best of the Frenchman's 'reserves', Isco, the chance to shine. If he does, this time he might stay in the team for good.
Pick the best Barca-Real Madrid XI
Imagine you could pick from the combined squads of Barcelona and Real Madrid - tasty but testing. Who would you choose?