Currie says Portadown's relegation is sad night for Irish League
Last updated on .From the section Football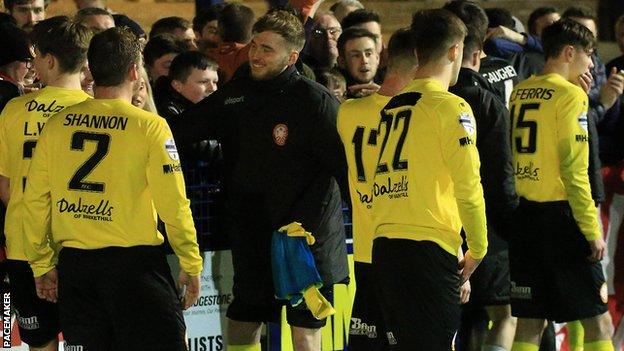 Niall Currie has described the relegation of Portadown from the Premiership as a sad night for Irish League football.
The Ports had their drop out of the top division confirmed on Tuesday night when they lost 3-2 away to Ards.
The club had been bottom of the table all season after having 12 points deducted in a disciplinary case.
"The Premiership has lost one of its biggest clubs," said Currie who took over as Portadown manager in December.
The last time the Ports dropped out of the top division was in 2008 and was the result of an administrative blunder as they were too late in applying for a place in the new Premier League.
As well as losing 12 points before this season kicked-off, Portadown's first match of the campaign was awarded to Coleraine without being played as the Ports were suspended for not paying a fine.
That fine had been imposed after the County Armagh club was found guilty of making undisclosed payments to players. They were also barred from signing professional payers until June 2017.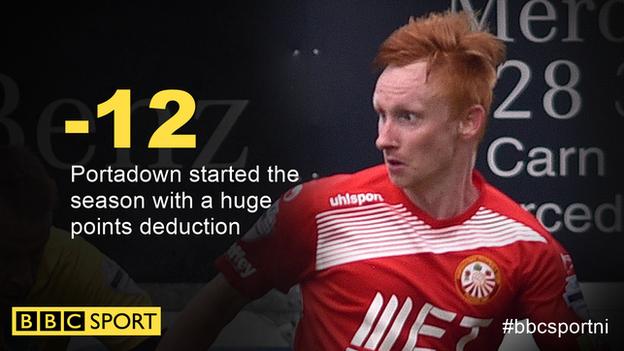 Then in November the Shamrock Park club lost three more points for including midfielder Robert Garrett in a 3-1 win over Ards when he was suspended.
"The killer for me when I came to the club was not being able to sign pro players in January," said manager Currie.
"This club is still attractive to a number of players and we could have brought in four or five top players.
"We will get over it and move on. We will regroup and rebuild again. The club is coming together and there are going to be good times ahead.
"It has been difficult, throwing kids in at 15, 16 years of age and that is not ideal. But we have consistently had a number of players unavailable.
"Next season, we are going to be the big fish in the Championship and will be the cup final for the other teams.
"It is a tough league to win and we have got to get the right characters with the right mentality into the club."