Anthony Knockaert: Brighton forward hoping to win award for his family
Last updated on .From the section Football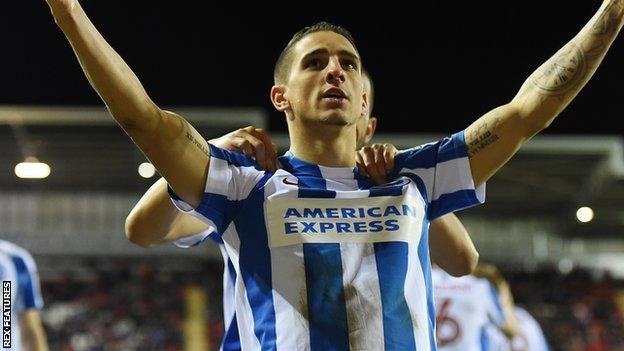 Brighton winger Anthony Knockaert says he wants to win the Championship Player of the Year award for his family following the death of his father.
Knockaert, 25, is on the shortlist alongside Leeds forward Chris Wood and Newcastle striker Dwight Gayle.
His father died in November, but he has been in fine form to help them maintain their place in the top two.
"For what happened with my dad this season I know he would be very proud of me if I win," he told BBC Sussex.
"I hope I will win it and it would be a great comeback for me from what happened for me this season.
"I didn't expect this when it happened, I was expecting myself to be out for a long time, I mean mentally."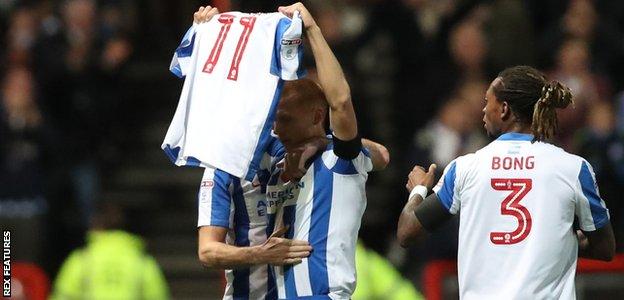 Knockaert missed only one game following his father's death, while a number of his teammates and manager Chris Hughton travelled to France to support him at the funeral.
"I can just thank the club so much and all my teammates and everything to have helped me like they did," he continued.
"I think if I'm here in this position to try to be player of the season in the Championship, it's because of them, I owe them everything.
"Obviously it was tough - I'm not going to lie, it was really tough.
"But I still thought every morning when I woke up, I was just thinking about my dad and thinking I just need to fight for him and that's maybe the reason I'm here."
Brighton are in action again on Tuesday with a home game against Birmingham City and victory would put them top of the table.