Helen Ward: Pregnant Wales striker to miss Yeovil Town Ladies' season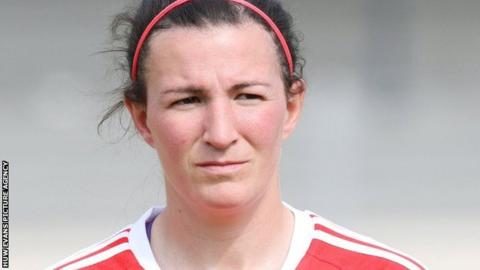 Wales striker Helen Ward has announced she is pregnant and will miss Yeovil Town Ladies' first top-flight campaign.
The 30-year-old, who is Wales' all-time record goal scorer, signed for the Lady Glovers on a free transfer in February ahead of the Women's League One Spring Series, which runs from April to June.
But on Friday she said she will not be able to fulfil her contract at Yeovil.
"My husband and I are expecting our second child," Ward said. "Although a little unexpected, we're very excited."
The former Watford, Arsenal, Chelsea and Reading striker added on social media: "This is not the end of my football career. I fully intend to pick up where I've left off in the winter.
"I want to prove myself again at the highest level and will do all I can to put myself in the best condition possible to come back at both club and international level."
After the 2017 Spring Series - a transitional competition designed to ease the WSL's move from a summer to a winter calendar - Yeovil will play in WSL 1 again from September.
Ward was part of the Wales squad that finished sixth in the Cyprus Cup earlier in March, netting in their group-stage win over Hungary.
When the then-Reading striker had her first child, she began the 2015 season on maternity leave before helping the Royals win the WSL 2 title later that term.