BBC Sport - Irish Premiership: Ballymena earn derby draw against Coleraine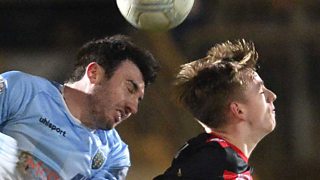 Ballymena earn derby draw against Coleraine
Johnny McMurray's late header gives Ballymena a 1-1 draw at home to Coleraine in the Irish Premiership.
Coleraine, up to third in the table, took the lead when Eoin Bradley followed up to score after his penalty had been saved by United keeper Tim Allen.
McMurray headed in from a corner in the 78th minute.
Get Inspired Activity Finder
Run by the BBC and partners
Find ways to get active near you: