Garth Crooks' team of the week: Lukaku, Valencia, Eriksen, Mane, Stones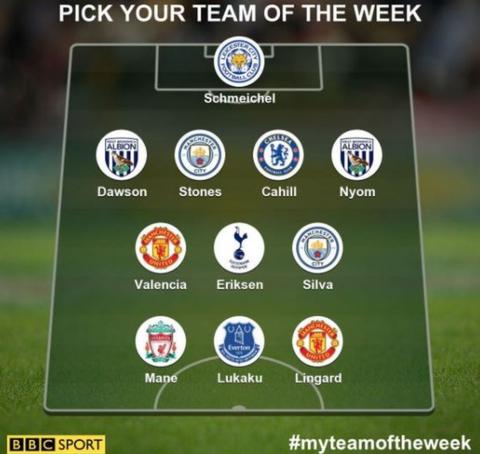 Chelsea maintained their 10-point lead at the top of the Premier League with a 2-1 win at Stoke, while Tottenham beat Southampton 2-1 at home to stay second.
Manchester City and Liverpool played out a pulsating 1-1 draw and Manchester United moved into fifth as a 3-1 win at Middlesbrough saw them move above Arsenal, who lost 3-1 at West Brom.
Elsewhere, Bournemouth steered well clear of the drop thanks to a 2-0 victory over Swansea, while there were wins for Everton, Crystal Palace and Leicester City.
Do you agree with my team of the week or would you go for a different team? Why not pick your very own team of the week from the shortlist selected by BBC Sport journalists and share it with your friends?
Goalkeeper - Kasper Schmeichel (Leicester)
Two of the best saves you will see from Kasper Schmeichel, and reminiscent of his father Peter Schmeichel at his best. The save from Andy Carroll's header was immense and the shot stop from the same player was even better.
It could be argued that Schmeichel has been Leicester's most consistent player in what can only be described as a complicated season for the Foxes. However, what has been most impressive from the young keeper has been his honesty off the field around all the speculation involving Claudio Ranieri's departure. He fronted up for interviews and spoke with clarity and maturity about a very difficult situation, giving Leicester fans (and the public at large) some indication of what was happening behind the scenes.
It was not an easy situation for the goalkeeper but he stood up to the challenge. The Dane now faces a different test and that is having to maintain the sort of performance he showed against an unlucky West Ham to ensure his team remain in the Premier League. They can flirt with the Champions League all they want, but their Premier League status is what really matters. A point Ranieri apparently failed to understand.
Defender - Craig Dawson (West Brom)
Arguably against the tallest back four in the Premier League, Arsenal were in complete disarray when defending set-pieces and Craig Dawson took complete advantage. His two goals from almost identical set-pieces told the story. Arsenal did not, and could not, handle West Brom's aerial power.
If ever there was a time to bring on Per Mertesacker and plonk him in the heart of the Arsenal back four then this was it. So what was the point of having the German defender on the bench if you were not going to use him when necessary? Was Arsene Wenger waiting for Laurent Koscielny or Shkodran Mustafi to pull a white handkerchief from out of their shirt sleeve and wave it to the bench to signal that they couldn't cope? No, of course not, that's the manager's job to see the faults in his team and correct them as quickly as possible.
If you were ever going to bring on the big German, wasn't this the game? It was so obvious to me that no-one in the Arsenal back four fancied taking on West Brom's aerial threat. Which brings me to a much more worrying point for Wenger. It's one thing his team not having the heart for the battle, however it is something entirely different when your players don't have any heart left for the manager any more.
This display by Arsenal players was very telling and Wenger must seek a dignified exit from the Emirates as soon as possible otherwise his impressive record at the club will count for nought.
Defender - John Stones (Manchester City)
A couple of great blocks by John Stones were enough for me to realise this young man was on top of his game against the Reds. As the game unfolded, and the skiddy conditions became a nightmare for defenders, Stones seemed to become more assured. I must say his defensive partner Nicolas Otamendi often makes me nervous on occasions like these, but to be fair to the Argentine he handled Liverpool's counter-attack very well in the second half.
There is no doubt in my mind that Stones is growing into an excellent central defender, and the more I see him the more I detect that the juvenile risk-taking we saw in the early part of his career is being replaced with a calm maturity. It's good news for City and very good news for England.
Defender - Gary Cahill (Chelsea)
Chelsea boss Antonio Conte was absolutely right when he said "you can't go to Stoke and expect to win a game without a fight". For someone who is in his first season of management in the Premier League, he's worked that out very quickly. Gary Cahill, on the other hand, will know all about the Potteries and what it takes to win at the Bet365 Stadium. The Chelsea captain gave a penalty away but redeemed himself and his team with a well-taken goal which puts the Blues in what I consider to be an unassailable position at the top of the table.
This time there was no Eden Hazard to bully, so Diego Costa was Stoke's target, and boy did they give it to him. If it wasn't Bruno Martins Indi dishing out the punishment then it was Ryan Shawcross who was putting Costa on notice that this was not the place that would suffer the Spaniard's antics.
However, it was Phil Bardsley who stood out amongst the would-be assassins having taken a piece out of Costa earlier in the contest before totally disgracing himself with the sort of lunge on Cesc Fabregas normally associated with WWE. It's perfectly obvious to everyone that Chelsea are the team to stop - any further advance toward the Premier League title and sides like Stoke are not going to be pleasant about it.
Defender - Allan Nyom (West Brom)
This full-back caught my attention during his days at Watford and even made my Team of the Week on a couple of occasions in the Quique Flores days. His run in the early part of the game down Arsenal's left-hand side would have resulted in a tap-in for Salomon Rondon had the centre-forward been more alert.
The Cameroon defender was equally adept in defence as he thwarted Theo Walcott's attempt to put Arsenal ahead having seen Ben Foster make a wonderful save from Aaron Ramsey. As for Arsenal, it's all very well fans holding up banners in the stadium requesting their manager leave the club, meanwhile the team descends into farce.
Wenger might be struggling to do his job but Arsenal are in grave danger of losing that perennial Premier League fourth spot and an FA Cup semi-final if this form continues. There is no reason why the fans shouldn't do their job and support the team. So much depends on it.
Midfielder - Antonio Valencia (Manchester United)
What a way to score your first goal of the season. I was never one for chasing lost causes because logic seemed to suggest the cause was lost. However, Antonio Valencia chased a ball that looked utterly futile to everyone except Valencia. It seemed the threat of Valencia's speedy approach served to hurry Victor Valdes and in so doing caused the Boro goalkeeper to slip and offer the United player an empty net.
At that point there must have been thousands of coaches justifying themselves to youngsters all over the country on why chasing lost causes has always been worthwhile. But to see United boss Jose Mourinho disappear down the tunnel before the final whistle shaking both fists in total delight at the apparent three points was for me utterly shameful. What happens to head coach Steve Agnew in future, or Middlesbrough Football Club for that matter is, at this moment, in the balance but Agnew did deserve to receive a handshake from the Manchester United manager at the end of the game as tradition demands.
This is Manchester United Football Club and it has a long and proud history of doing things properly. I hope the United board have the courage to remind their employee who he represents. Sir Alex Ferguson, with all his tantrums, always respected the traditions of the game and would never have behaved in such a manner. As for Valencia, there can only be Zlatan Ibrahimovic stopping him from becoming United's fans' player of the season. I know who I would pick.
Midfielder - Christian Eriksen (Tottenham)
In the absence of Harry Kane, it was left to Christian Eriksen to pull the strings for Spurs against a very dangerous Southampton. His first-half performance was exceptional, epitomised by his well-taken goal. Tottenham are cruising at the moment. Second in the league and looking like finishing above Arsenal for the first time in 22 years.
I'm not entirely sure whether finishing in the top four or above Arsenal is a sign of real success, but I know Spurs fans will take both. Nevertheless, the mark of a top team has to be winning trophies and if they were to beat Chelsea in the FA Cup semi-final and go on to win the trophy I would be duty bound to acknowledge this Spurs team has finally come of age.
However, as far as Tottenham are concerned, winning the FA Cup is only a stepping stone to winning the Premier League. That's the real prize.
Midfielder - David Silva (Manchester City)
This was a game I didn't want anyone to lose. It was a fabulous game of football and, for once, referee Michael Oliver didn't do anything daft. The managers were great with each other on the touchline, and both teams appeared totally committed to winning, with 22 players giving everything in very tricky conditions.
Kevin de Bruyne deserves a mention for that moment of magic and the ball of the game. It opened up Liverpool's defence so completely and left Sergio Aguero, the best natural finisher in the game, to do what he does best. Yet for me it was David Silva who provided City with all their inspiration. He had great support from Fernandinho, especially when the Brazilian joined him in midfield in the second half.
It was Silva who nearly provided City with all three points with a wonderful chipped ball for Raheem Sterling, but the England international simply wasn't equal to it. Credit to both managers, to the players and the referee. We saw a hell of a game.
Forward - Sadio Mane (Liverpool)
There were so many good performances in this match I could have selected a number of Liverpool players. I thought Emre Can had one of his best games for Liverpool in months, Joel Matip showed composure under pressure and Georginio Wijnaldum looked like he was back to his best. However, as far as Liverpool were concerned I thought Sadio Mane was probably the pick of the bunch. It was Mane who looked the most threatening.
For the Liverpool penalty, it was James Milner who stepped up and converted the spot-kick, but I thought Raheem Sterling deserved a penalty when Milner clipped his heels in the box.
Granted, it would have taken a very brave referee to point to the spot, but there was no doubt in my mind. Liverpool look a side again now Mane is back and buzzing since his return from the African Cup of Nations. However, I still don't understand why Liverpool seem to struggle against the lesser teams.
Forward - Romelu Lukaku (Everton)
This was a tricky game for Romelu Lukaku against Hull. The fact the player's refusal to sign a new contract was made public could have resulted in a negative reaction from Everton fans. Interestingly enough, no such reaction occurred, which must have been a relief and bolstered the player's confidence immensely. Lukaku's response was emphatic. An assist and two goals in the dying minutes by Lukaku killed off any thought of a Hull revival.
However, the sad truth is that any chance of Hull staging a fightback was destroyed much earlier with the utterly preposterous dismissal of Tom Huddlestone by referee Paul Tierney, which destroyed what would have been a perfectly good contest. There have been lots of good innovations since the introduction of the Premier League, but trying to turn the game into a 'non-contact' sport is not one of them. Fans want to see 11 versus 11 in all but extreme circumstances. A yellow card at best was all Huddlestone deserved for his tackle on Idrissa Gueye. The card would have put Huddlestone on notice that if repeated, he walked. A sending-off offence is like sending a man to the gallows - you can't afford to get it wrong. This sending-off offence was by no means conclusive.
As for Lukaku, I can think of a number of top teams at home and abroad who would pay considerably more for Lukaku than Everton spent bringing him to the club. Manchester United need to replace Zlatan Ibrahimovic sooner rather than later. Chelsea have doubts about retaining Diego Costa because of the interests of China, Arsenal will need rebuilding post-Arsene Wenger - and Lukaku joining Sadio Mane at Liverpool is just too scary for words.
Forward - Jesse Lingard (Manchester United)
This was a lovely winner from a local lad with an enormous amount of talent. When Jesse Lingard scores goals they tend to be tremendous finishes and his strike against an outclassed Middlesbrough was an absolute belter. He and his partner in crime, Marcus Rashford, were superb against Boro. The problem for Rashford is that goals are proving to be rather elusive at the moment, while Lingard looks comfortable in front of the sticks.
These two young, local lads continue to prove United still have the capacity to develop talent.
What I also noticed during this very credible performance by United was they didn't miss the presence of Paul Pogba. The only interesting feature about United's record signing these days are his meticulous haircuts. If the Frenchman put as much effort into his game as he does in his hair there's no telling what he could achieve.