Kevin Nicholson: Torquay United boss annoyed by 'sketch show' defending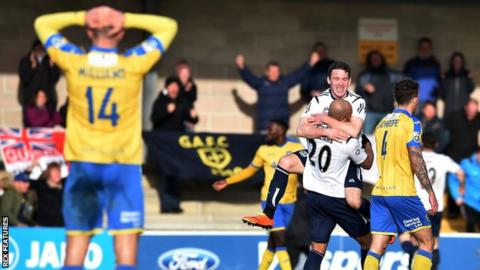 Torquay United player-boss Kevin Nicholson blamed his side's "sketch show" defending for their National League defeat by Guiseley on Saturday.
The Gulls have only one win from their past 10 games, a run which has seen them fall into the relegation zone.
"Not for the first time they've absolutely killed themselves and absolutely killed me," Nicholson said.
"If it wasn't my team, if it wasn't my club, I'd probably find those goals quite amusing they were that bad."
Torquay led before Guiseley went down to 10 men but conceded twice in the last 30 minutes.
They were also ahead in their previous game at Sutton, but went on to lose despite their opponents playing most of the match with a defender in goal.
The Devon side had their takeover by Gaming International ratified by the National League on 28 February.
"It's not even schoolboy stuff, it's calamity stuff - it's the stuff of sketch shows rather than a football pitch," Nicholson told BBC Radio Devon.
"It's probably going to take a little while to get over that one to be totally honest. I usually bounce back pretty quickly, but I'm going to have to lick my wounds a little bit."
Writing on his Facebook page after the match, Nicholson hinted his position may be in doubt.
He said: "Who knows what the future holds, but if I get the honour to be in charge of this team again next week then I know that a win will most likely get us out of the bottom four."