Chelsea almost unstoppable, says Manchester City boss Pep Guardiola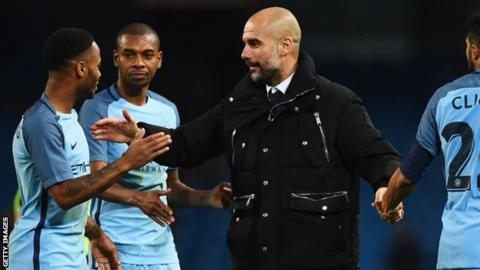 Premier League leaders Chelsea are "almost unstoppable" and Manchester City must win every game to stay in the title race, says boss Pep Guardiola.
City beat Sunderland 2-0 on Sunday to move within eight points of the Blues, who visit West Ham on Monday.
Guardiola's side currently sit third in the table, but can move above second-placed Tottenham if they win their game in hand at Stoke on Wednesday.
"It's a pity that the distance between Chelsea is so big," said Guardiola.
"But that's true. We are there behind, of course, Chelsea because they are almost unstoppable."
The Premier League is one of three competitions Guardiola's side are still in with a chance of winning.
City face Middlesbrough in the FA Cup quarter-finals on Saturday and Monaco in the Champions League last-16 second-leg the following Wednesday.
"I feel we are playing quite well and that's why we are getting results," added the Spaniard, 46.
"But now, of course, we are in a position when you arrive in March and April, every game if you win, you stay; if you lose, you are out.
"In the Premier League, in the cup, in the Champions League. The players know, we know, the club knows, if we are not able to win the next game we will be out."