Caf steps in to heal dispute in Zambia between Kamanga and Bwalya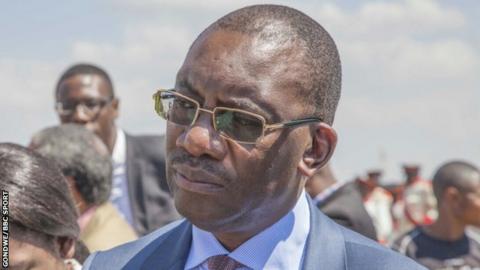 The Confederation of African Football (Caf) has intervened in a dispute involving Zambia FA president Andrew Kamanga (pictured) and his predecessor Kalusha Bwalya.
Bwalya, who is a member of the Caf executive, is in Zambia as part of Caf's delegation, watching the on-going Under-20 Africa Cup of Nations.
Kamanga had written a protest letter to Caf president Issa Hayatou alleging that Bwalya was working with people to destabilise his leadership.
Kamanga claimed Bwalya's presence had heightened calls for him to be impeached during the Zambia FA (Faz) annual general meeting later this month.
Bwalya denies all the allegations.
The situation forced the Caf President Issa Hayatou to intervene by calling Bwalya and Kamanga together to discuss the matter.
Hayatou told reporters that Bwalya should respect Kamanga as he was duly elected as Zambia's FA President.
"During our meeting we requested the former president (Bwalya) to respect the current one (Kamanga)" Hayatou told a press briefing.
"And we also asked the current executive to seek advice from him (Bwalya) for the good of the game.
"The two, I am sure, are in good relations now. There is nothing wrong. We are very satisfied with the outcome of that meeting" Hayatou added.
Kamanga was elected as the Zambia FA's president after defeating Bwalya last year.