Scunthorpe United chairman Peter Swann tells fans not to panic after poor run of form
Last updated on .From the section Football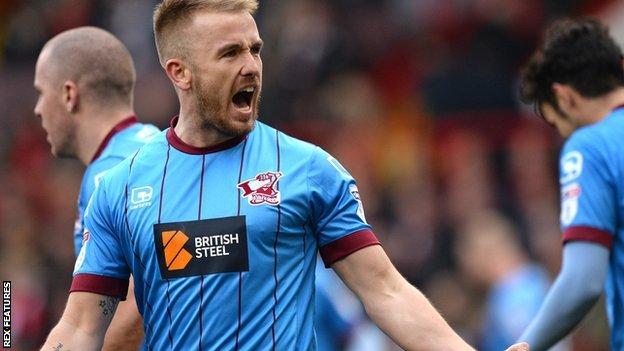 Scunthorpe chairman Peter Swann has urged fans to keep faith in the team and "not get on players' backs".
The Iron have lost three of their last six league games, but are still second in League One.
The home defeat by Shrewsbury on 11 February ended a run of 26 league games without losing at Glanford Park.
"Let's get real, we are second in the league and that is after playing probably our worst football of the season," Swann told the club website.
"Do you honestly believe that when a player doesn't control the ball with his first touch of the game we should be on his back?"
He added: "The rumours of contract disputes, unrest in the team, a not-bothered attitude, is so far from the truth it hurts when I read it and certain people just want to derail our success whether knowingly, or not, which is even more annoying.
"We ask passionately that you all get behind them and give them that chance to recapture their form and yes, do not panic, because we can do it, we can get promoted and we can be proud of them."
The Iron were top of the table when they last won, against Port Vale on 28 January, but are now seven points behind leaders Sheffield United and level on points with third-placed Fleetwood.
Scunthorpe host the Cod Army on Saturday.