Claudio Ranieri: BBC Radio Leicester's open letter after saying goodbye to ex-Foxes boss
Last updated on .From the section Football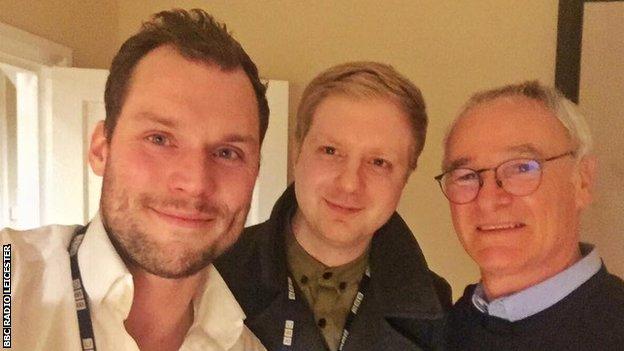 After Claudio Ranieri was sacked as Leicester City boss this week, BBC Radio Leicester reporters Ian Stringer and Jason Bourne went to see him. Here is their open letter about the encounter from the BBC Leicester Sport Facebook page...
Claudio Ranieri is the epitome of class.
We had the privilege of spending a few minutes in his company on Friday night, less than 24 hours after his departure from Leicester City was confirmed.
We wanted to thank him not only for the manner in which he dealt with us on BBC Radio Leicester, but also to offer our gratitude for making our dreams come true. He led our club to the unthinkable. We had our hearts stolen by the Italian, as many others did. We felt compelled to tell him how we felt.
The memories of last season will stay with us forever. You'll sometimes catch us in the office watching Andrea Bocelli serenading the King Power Stadium. It still brings a tear to the eye.
The last few months, though, have been far from perfect and Claudio must share some of the blame for the team's struggles. He has been the first to point out his own mistakes. Whatever the rights and wrongs of his sacking, he will always be known to us as a legend.
After work on Friday, we drove to his house with a letter in hand. Hoping to deliver to him personally, we had an approach of 'whatever will be will be'. If we had to simply post it through his letterbox then so be it. We knew he'd been visited by fans and others from the media all day.
Thankfully, Claudio answered the door himself. He was beaming from ear to ear, greeted us with warm handshakes and invited us in to his home for coffee. He was positive, yet regretful, about what happened, but continually spoke about the fans and his love and admiration for them and the club.
He was full of pride when discussing his memories of our city and he isn't far from knowing when is best to get his Christmas pork pie from the Walkers shop in town - quite the local!
Claudio turned his lampshade up and sat us down on his modest, but comfortable, sofa for a chat. His animated Italian style in full flow as he explained the level of thanks that supporters have offered by delivering cards and bottles of wine to his house.
He laughed as he recalled the first time he had "Claudio, give us a wave! Claudio, Claudio give us a wave!" sung at him and he didn't understand. It was Lincoln away if we remember rightly. Craig Shakespeare made it known to him and he promptly responded.
Neatly dressed (no slippers, just socks, no shoes in the house) he bid us farewell after the espresso had hit the spot. We thanked him for giving us the greatest year. "No thank you, thank you very much", replied the legend.
We got to say goodbye and whilst he hasn't had a chance to do it in public we can assure you he's thankful for every cheer and song he had.
Regardless of how his time at Leicester City ended, we will always remember him as a gentleman and a legend of our club.
We don't ever ask managers - past or present - for a picture but Claudio indulged us on this occasion.
Grazie, Claudio!
Ian and Jason