Women's Muratti: Cancellation decision to be 'revisited' by Guernsey FA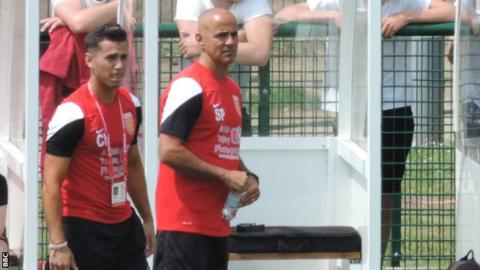 The Guernsey Football Association has said it will "revisit" its decision to cancel the 2017 women's Muratti.
Guernsey pulled out of the game against rivals Jersey because they could not convince enough players to register directly with the island's FA.
Since then, more than 25 players have offered to join clubs in Guernsey, hoping those affiliations would be enough to get the fixture back on.
The GFA has said those registrations will not now go ahead, though.
But it says a "possible solution" will instead be put to players, the majority of which compete for Ormer FC - a side affiliated to the Hampshire Football Association instead of Guernsey, and therefore currently not eligible for the Muratti.
"The GFA confirms that contrary to previous media statements, senior women's players will not be registered by either club [Sylvans or Rovers]," said a statement.
"However, a possible solution to player eligibility for the women's Muratti has been established and the solution will be put forward to all players currently registered with Ormer Ladies FC.
"The position at present remains that the 2017 women's Muratti will not be played, but the GFA will revisit this decision subject to a positive response from the player representatives for Ormer Ladies FC."
Recent women's Muratti winners
2016: Jersey
2015: Jersey
2014: Jersey
2013: Jersey
2012: Jersey
2011: Jersey
2010: Jersey
2009: Jersey
2008: Guernsey
2007: Jersey
Meanwhile, before the statement from Guernsey, Jersey manager Simon Petulla had added his voice to calls for this year's game to be reinstated.
"I don't see any reason why the game can't go ahead," he told BBC Radio Jersey.
"The Guernsey FA said they wanted the players to sign on for them, they've now signed on so I don't see what the problem is."
Jersey's women have won 14 of the last 15 Muratti matches, and the cancellation of the 2017 encounter comes as a blow to their preparations for this summer's Island Games title-defence in Gotland.
"It's highly political," added Petulla. "I know it was 9-0 last year, but it's the game you look forward to and everyone wants to play a Muratti. It's really crucial to the girls' development."
Jersey are set to face the Navy in March and are also poised to announce another friendly away to a professional club as part of their build up to the Games.