Women's Muratti 2017: Ormer put forward plans to resurrect match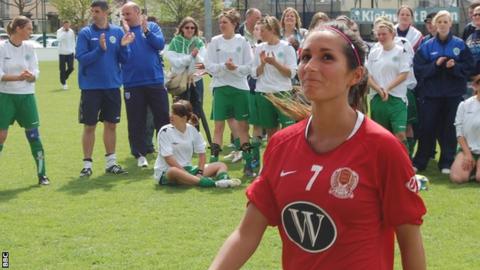 The club at the centre of a dispute in women's football in the Channel Islands has written to the Jersey and Guernsey football associations, in an attempt to get the Muratti to go ahead.
The game between the islands has been cancelled because the Guernsey FA could not convince enough women to register.
Many of their top players represent Ormer Ladies in the UK, a club affiliated to the Hampshire FA.
But now 18 Ormer players have agreed to also sign for Guernsey-based clubs.
The letter says they are willing to register with Sylvans and Rovers, therefore making them eligible for the Muratti, if the match is reinstated.
"When we heard the Muratti was cancelled we thought that this was a ridiculous situation," Ormer secretary Vanessa Crispini-Adams told BBC Radio Guernsey.
"We're all here to facilitate girls and women playing football, and we all should be working together to achieve that.
"We therefore got together with some of the players, Sylvans and Rovers and thought if it's just a case of the girls affiliating to Guernsey, let's go ahead and do that."
Women's Muratti facts
The tournament started in 1997, with Guernsey hosting and winning the match 3-0
Guernsey won every year until 2002, when Jersey won for the first time
Since 2002, Jersey have won all but one of the clashes
The last three years have seen particularly big losses for Guernsey, with Jersey winning 5-1, 7-0 and 9-0 in 2014, 2015 and 2016
Jersey have scored nearly three times as many goals as Guernsey during the women's Muratti matches, with 59 goals to Guernsey's 20
Ormer have also pledged to cover the registration costs with the two Guernsey clubs, which they argue is a quarter of the cost of committing directly to a Guernsey FA team.
"The forms will be delivered to the GFA by the close of business today," added Crispini-Adams.
"I've been absolutely staggered at the politics involved in sport - I don't know if it's just locally or sport generally - and I really hope that we can take a collaborative approach and work together to achieve a positive outcome."
The associations are yet to publicly respond to the letter, which comes after the Jersey FA ruled out playing a fixture against Ormer in an "alternative" Muratti.