Bolton Wanderers: Dean Holdsworth rejects Ken Anderson claims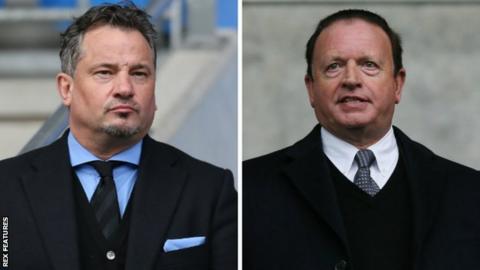 Bolton co-owner Dean Holdsworth has rejected a number of claims made by chairman Ken Anderson about his involvement in the League One club.
In a statement, Anderson said he chose to sell striker Zach Clough to Nottingham Forest for £2.5m after Holdsworth failed to invest funds.
However, ex-Bolton striker Holdsworth, 48, stated he was never made aware of the sale on transfer deadline day.
The pair took over the Trotters in a £7.5m deal in March 2016.
"The sale happened without any communication to me and was not brought to the attention of, nor approved by, the board," said Holdsworth.
"Ken Anderson made that decision and negotiated the terms of the deal alone. I had no involvement in the sale.
"Unfortunately, for many months I have been excluded from management business, including negotiations about players."
In December it was reported that Bolton faced administration unless a deal could be struck between the two where Anderson would take sole control at the Macron Stadium.
In a statement released on Sports Shield, the investment company Holdsworth used to buy Bolton, he also stated:
He is unwilling to invest funds into the club until he receives further critical financial information
After putting funds into the club, Anderson has withdrawn them
Has questioned Anderson's management of the club
Accepts the pair are in dispute over a number of matters
Analysis
BBC Radio Manchester's Bolton Wanderers commentator Jack Dearden:
"Given the relationship between the two Wanderers directors, it is no surprise to me that we have now arrived at this situation.
"The biggest losers in all this are clearly the loyal Bolton supporters, who frankly must be wondering what's going to happen next.
"It is my understanding that when Bolton's accounts can be seen publicly it will only add to the major concerns, and clearly questions need to be answered."