Women's Muratti 2017: Match between Jersey and Guernsey cancelled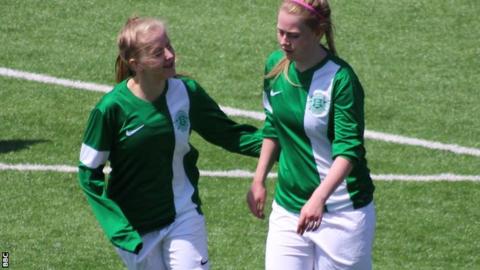 The women's Muratti has been cancelled because Guernsey are unable to find enough players for the annual match against rivals Jersey.
Last season's game finished in a record 9-0 win for Jersey, who have lifted the Vase for the last eight years.
Muratti rules insist players register for Channel Islands clubs, but the Guernsey women's league was scrapped a year ago.
Most players joined Ormer Ladies FC, affiliated to the Hampshire FA.
"It is with regret that the Guernsey Football Association announces it will be unable to host the Ladies Inter-Insular this season," a GFA statement read.
"There are not enough suitably qualified players to form the representative team."
Women's football has thrived in Jersey in recent years under the leadership of Simon Petulla and his management team, dominating the Muratti games and winning the Island Games gold for the first time in 2015.
Meanwhile, Guernsey have decided not to send a squad to the 2017 Games in Gotland and had hoped to develop a Guernsey Ladies Football Club to increase the number of competitive fixtures.
"The object was to ensure that a ladies club was affiliated to the GFA and that it played at a more competitive level than the previous defunct GFA Women's League," said GFA chairman Chris Schofield.
"In addition it was intended to provide a pool of eligible players from which to select a representative team for the Inter-Insular competition.
"However, the GFA learned that a majority of the senior island players had elected to play for Ormer Ladies FC and play their matches in the UK.
"Ormer FC play their home matches in Hampshire and are therefore affiliated to the Hampshire FA."
Brian Horsepool, technical director of Ormer, insists the women's membership of the Hampshire FA League is not to blame as they only play in friendlies on the mainland, not competitive games.
Recent women's Muratti winners
2016: Jersey
2015: Jersey
2014: Jersey
2013: Jersey
2012: Jersey
2011: Jersey
2010: Jersey
2009: Jersey
2008: Guernsey
2007: Jersey
Jersey officials hope the game can be resurrected in future and are already working to find a high-profile fixture to replace the match as part of their preparations for the Island Games.
"The Jersey Football Association is disappointed that the women's Muratti will not be held in May 2017," read a JFA statement.
"The Guernsey Football Association has kept us fully informed of their discussions with their players and the subsequent outcome.
"We hope, however, that these difficulties can be resolved in the near future and that the women's Muratti, which is so important to the development of women's football in the Channel Islands, can be reinstated as soon as possible."