Fifa extends ban on Nigerian Chris Giwa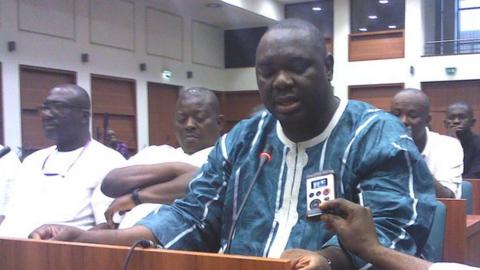 Chris Giwa, founder of a rival faction in the Nigerian Football Federation, has been banned from football-related activity worldwide by Fifa.
In May 2016, Giwa and four others in his group were banned by the NFF for five years for impersonation and taking football matters to a civil court.
The ban was for breaches of the NFF statutes and the Fifa code of ethics.
Giwa has since August 2014 insisted he was elected NFF president in a disputed vote that was not recognised by Fifa.
Fifa threatened to ban the country from international competition if Giwa did not step down, and at the end of September the NFF elected Amaju Pinnick as its new president.
Giwa, Muazu Suleyman, Yahaya Adama, Sani Fema and Johnson Effiong were later suspended, and Fifa said in a statement on its website on Tuesday that the bans would apply worldwide.
However, Giwa intends to launch an appeal.
"They [Fifa] have not communicated to us directly and reading something on Fifa's website is not a direct communication," Giwa told BBC Sport.
"Once we hear from Fifa then we will take the necessary steps and we cannot rule out [filing an appeal with Court of Arbitration for Sport] over something so excessive."