Island Games 2017: Jersey women's squad finalised for Gotland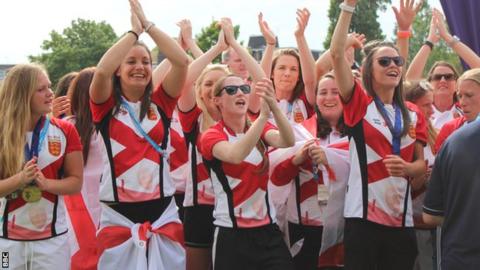 Jersey's women's manager Simon Petulla has finalised his 20-strong squad for this summer's Island Games in Gotland.
Petulla had already named 15 players in November, leaving five spaces open.
Those spots have now been filled by midfielders Marta Ascensao, Lara Couvert, Amy Brown and teenager Megan Wood, plus goalkeeper Paula Alves.
Jersey are the defending champions, having won gold for the first time at Jersey 2015.
"Marta and Lara have been involved in Murattis and previous Island Games, but for Paula, Amy and Megan this will be their first Games," said Petulla.
"Megan has only just turned 16 and she brings a lot of quality and energy to the squad.
"She will be a star at the Games for sure, and I know she can't wait to start training with the squad."
Jersey will face the Isle of Wight and Gibraltar in Group C of the 11-team tournament at the end of June.
Jersey squad: Sara Luce, Paula Alves, Ciara Giles, Kelly Hughes, Leanne Le Feuvre, Michelle Bichard, Sylvie Spinola, Sophie Botterill, Lauren Quemard, Libby Barnett, Eve Watson, Marta Ascensao, Jodie Botterill, Holly Muirhead, Lara Couvert, Amy Brown, Natasha Keen, Megan Wood, Rosie Corbett, Catarina Andrade.