Saido Berahino: Stoke boss Mark Hughes 'disappointed' at leak of striker's ban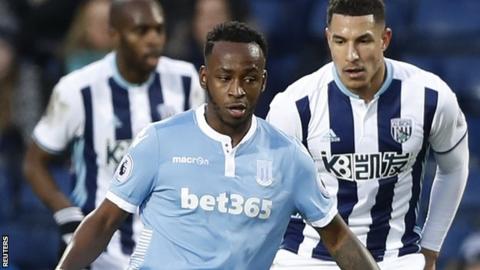 Stoke City manager Mark Hughes is disappointed news of Saido Berahino's two-month ban was made public.
Striker Berahino joined the Potters from West Brom last month, and came off the bench as the Baggies won Saturday's match between the sides 1-0.
Newspaper reports on Thursday claimed Berahino was banned after failing an out-of-competition drugs test.
"We knew at some point it would come out but it's a disappointment," said Hughes.
"It's probably disappointing for West Brom too because clearly they were able to keep the issue discreetly under wraps for six or seven months and, lo and behold, two days before a game against his new club it comes out.
"It's a shame as people would suggest maybe West Brom had something to do with that. I'm not saying that, you can interpret it like that."
It is understood Albion are adamant they did everything above board and that once a deal was struck - and before money changed hands - Stoke were fully briefed.