BBC Sport - Irish Cup Highlights: Portadown edge Loughgall in sixth round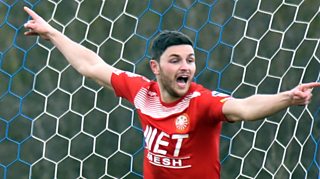 Ports edge Loughgall in Irish Cup
Portadown come from behind to defeat Championship outfit Loughgall in an Irish Cup sixth round clash at Lakeview Park.
Peter Campbell put the hosts ahead before the Premiership strugglers hits back with goals from Shea McGerrigan and Tiernan Mulvenna.
Ports boss Niall Currie was delighted with the win and drawing mid-Ulster derby rivals Glenavon in the quarter-finals.