Cardiff City 'Should have had two penalties' says Neil Warnock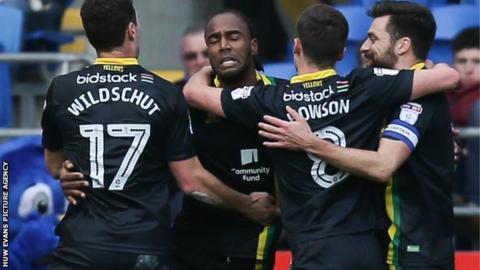 Cardiff City manager Neil Warnock felt the officials were to blame for the Bluebirds' defeat to Norwich City.
Cameron Jerome's goal against his former club gave Norwich all three points, but Warnock thought Cardiff should have had two penalties.
"On another day we could have had a couple of penalties," he explained.
"I'm disappointed with the penalties, probably seven or eight referees out of 10 would have given them. Both of them, really. I cant accept it."
Warnock says he was unconvinced by the explanations he was offered by referee Chris Kavanagh for the two incidents involving Rhys Healey and Kadeem Harris.
"The first one (the challenge on Healey) the referee said he was 100 per cent sure he dived, but there was definitely contact. Even if he thought that, it's still not a yellow card," he said.
"The second one, not in a million years has it (the ball) been deviated, and yet we've got a super-human linesman on the far side who spoke to the referee and said he saw deviation. We're talking about a guy standing 45 yard away!
"I've heard some excuses but I've never heard anything like this.
"The linesman on the far side said the defender got a touch to it, but when you watch again there's no touch about it. They imagined they got touches."
Warnock says he is happy with the level of performance from his players.
"I am really pleased with the lads and the way they went about their business," he said.
"We didn't deserve nothing from the game, there wasn't a lot between us and a very expensive team (Norwich).
"We were just not clinical enough. I think we all know that.
"But we showed we can compete with a club paying £7 million for players.
"That is what the level is now. But I am quite pleased with how we are going on. We are growing up a bit. There are a lot of plusses and I am happy with large parts of our game.
"We just miss creativity and clinical finishing."