Bondz N'Gala: Gillingham move falls through because of Fifa rules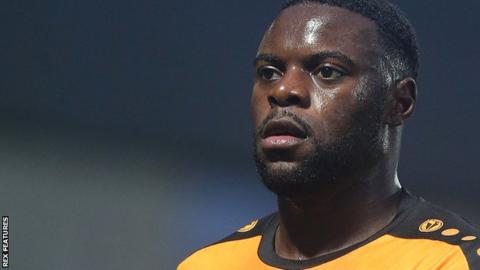 Defender Bondz N'Gala's move to Gillingham has fallen through because Fifa regulations say he has played for too many clubs this season.
The 27-year-old defender thought he had joined League One Gills on Thursday after leaving Eastleigh.
Rules state a player cannot feature for more than two sides in one season and N'Gala played for Barnet before joining National League Eastleigh in November.
Gillingham said they did not realise National League clubs counted.
"As a result of N'Gala playing for both Barnet and Eastleigh during the 2016-17 season, this unhelpful regulation means that he will not be able to play for Gillingham," a club statement said.
"Club chairman Paul Scally and head coach Ady Pennock are both extremely disappointed by this outcome.
"However, the club were not made aware of this regulation, one that has also scuppered signings at other EFL clubs in the past 48 hours."
On Wednesday, Leyton Orient winger Ulrich Nnomo's move to Paris FC was cancelled because of the new Fifa Players' Transfer rules which came into force this season.