Morecambe: League Two side fail to pay players and staff on time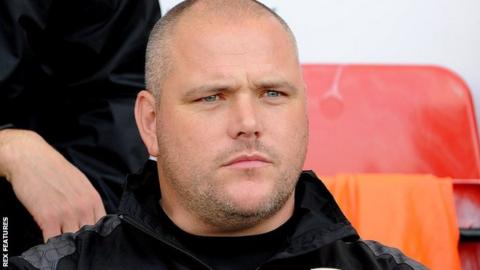 Morecambe boss Jim Bentley has confirmed that players and some staff have not been paid again as a takeover deal has yet to be completed.
US-based Italian businessman Joseph Cala has agreed to buy Abdulrahman Al-Hashemi's stake in G50, the company that owns the League Two club.
Cala, 56, had said he expected wages and bills to creditors to be paid no later than Tuesday.
In November, wages were received late because of financial problems.
"It's not the first time and you can only lean on people's good will for so long," 40-year-old Bentley told BBC Radio Lancashire.
"It's very frustrating and there is an awful lot of stuff going on in the background.
"It's very much a mess in regards to who owns the club, there just seems to be that many people in the picture in regards to Diego Lemos, Joseph Cala, Abdulrahman Al-Hashemi, G50, the old regime, Peter McGuigan - it's not ideal."
Bentley added: "I don't know the full ins and outs of it but what I do know is players and staff haven't been paid. I do think it will get resolved one way or another but in the meantime it is very tough on people at the club.
"People are really getting bored of it all and it is not right, but we've got to keep going."
Earlier this month, Shrimps fans collected £1,000 to pay the fine and costs imposed on Bentley by the Football Association after being sent to the stands during their game against Cheltenham in December.