Cardiff City: Boss Neil Warnock angry over deadline day games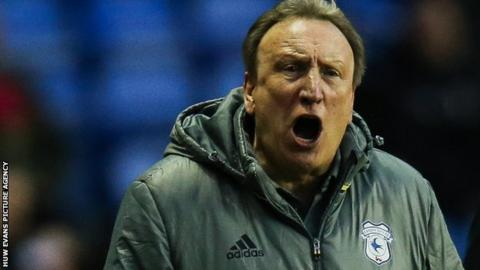 Cardiff City boss Neil Warnock has strongly criticised the Football Association for scheduling Championship matches on the last day of the January transfer window.
The Bluebirds beat Preston North End 2-0 in one of seven Tuesday night games.
There were also seven Premier League games as the window drew to a close.
"It's a nightmare, it's a disgrace. You can't tell me the Football Association couldn't plan it where there isn't a game," said Warnock.
The deadline was 23:00 GMT for Football League and Premier League clubs - a little over an hour after the final whistle in the matches.
"I am disappointed that we haven't brought anyone in," said 68-year-old Warnock.
"In the afternoon I should have been resting and I went to have a kip for half an hour and my phone went 20 times.
Podcast: Warnock praises winning Cardiff attitude
"It's typical of the FA that they haven't got the time or the inclination to try and help clubs or managers.
"They obviously have never been in our situation, don't know the phone is ringing every five or 10 minutes -agents, clubs.
"They haven't got a clue."