Manolo Gabbiadini: Southampton agree £14m fee for Napoli striker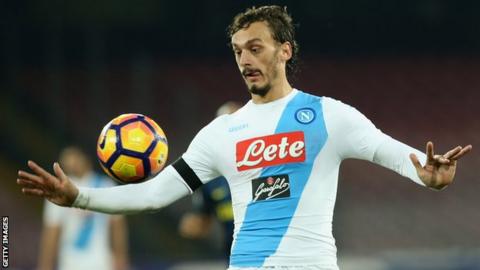 Southampton have agreed a fee of about £14m for Napoli striker Manolo Gabbiadini.
The 25-year-old is set to have a medical at the Premier League club on Tuesday.
Gabbiadini, who has six caps for Italy, joined Napoli from Sampdoria in 2015 and has scored 15 goals in 55 league appearances.
However, he has struggled for a first-team place in recent weeks and has not started a Serie A match since November.
Southampton are looking for extra forward cover, with Charlie Austin expected to be out for another three months with a shoulder injury.
Premier League transfer tracker
Keep up to date with all the Premier League transfers in January as we track and profile all the players leaving or joining a club this month.
This site is optimised for modern web browsers, and does not fully support your browser