Afcon 2017: Sadio Mane burdened by expectations - Diao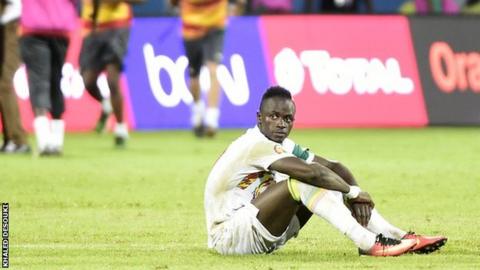 Senegal striker Sadio Mane was not ready to take on responsibility for the team at the Africa Cup of Nations, says former Teranga Lion Salif Diao.
Mane missed a penalty in the quarter-final shoot-out loss to Cameroon.
"It was sad what happened," Diao told BBC Sport. "Maybe we expected more but he hasn't got that maturity yet.
"Probably after one or two more years with his club Liverpool, he will be a lot stronger and able to take the Senegal team on his shoulders."
Diao made 39 appearances for Senegal and was part of the team that lost to Cameroon in the 2002 Nations Cup final in Mali, so he has a sense of what Mane is going through.
He also played 37 times for Liverpool and Diao believes the club can support Mane and help the 24-year-old recover from the setback.
"The quicker he can play again in the Premier League with Liverpool, the better," Diao added.
"Hopefully he will be playing as soon as possible, hopefully he will be scoring goals again and get his confidence back because missing the penalty was a big blow and I really feel sorry for the kid."
Liverpool arranged for a private jet to fly Mane back from the Nations Cup to give him a chance of facing Premier League leaders Chelsea at Anfield on Tuesday.