Motherwell: James McFadden hopes Stephen Pearson rejoins club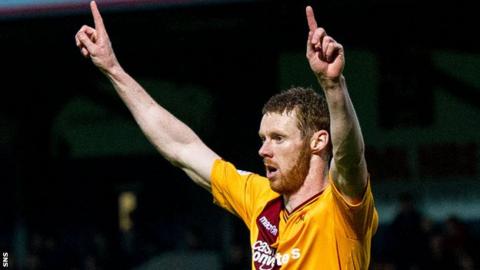 Motherwell assistant James McFadden hopes Stephen Pearson will follow his example by signing with the Scottish Premiership club for a third time.
The 34-year-old midfielder has just finished his latest spell in the Indian Super League with Atletico Kolkata.
"Having been the player who has come back three times before, I know the appeal and why you would want to come back," said McFadden, who confirmed that Well have made him an offer.
"And I know Pearo is exactly the same."
Pearson began his career at Fir Park and, after spells with Celtic, Derby County, Bristol City and Karela Blasters, rejoined Well for a season in 2015.
He is a free agent again after helping Kolkata finish fourth in the Indian league before winning the title with a play-off victory over his former club, Karela.
"We have spoken to him and offered him a deal and we're waiting to hear back," said McFadden, who thinks Motherwell have a tradition of welcoming back former players.
"Pearo would be a great addition on and off the park here.
"We would love to him back, so hopefully he makes the right decision and comes back.
"I know he has one or two things to think about before he makes that decision, but he knows he will be welcomed back with open arms here by everyone."
Motherwell have signed winger Elliot Frear from Forest Green as well as adding Reading defender Zak Jules and Everton goalkeeper Russell Griffiths on loan in recent days.
However, they are still looking to add to their squad before the transfer window closes.
"There could be, we are still working away on that," added McFadden. "But we don't have answers back from the people we are speaking to, so we will see how it goes."