Alderney: Priaulx League season preparing island well for Jersey Muratti game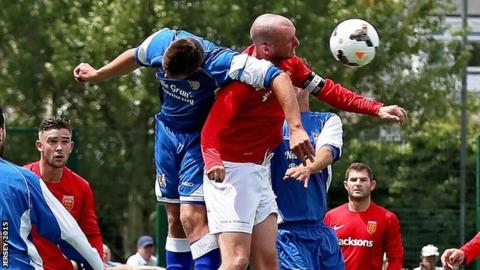 Alderney manager Alan Adamson says his side's first season in Guernsey's top flight will help them in their Muratti semi-final against champions Jersey.
They are fifth in Guernsey's Priaulx League and lost 1-0 to Guernsey last season - their best result since 1999.
"We've basically got the same team to play this year with a year's experience in the top league in Guernsey," Adamson told BBC Radio Guernsey.
"Hopefully that will stand us in good stead and we're looking forward to it."
Alderney's previous best Muratti results
2005: Lost 2-1 to Guernsey
2002: Lost 2-1 to Jersey
1999: Lost 1-0 to Guernsey
1920: Beat Guernsey 1-0 - their only ever win in the competition
Alderney finished last at the 2015 Island Games, conceding 21 goals and scoring just three in their four matches, but they are aiming to compete in Gotland at this summer's event.
The upsurge in football in Alderney comes 18 months after they were forced to pull out of the Guernsey league for a season because of a lack of players - having won the second-tier Jackson League in 2015.
"The community here have been fantastic at supporting us and it's always been a community thing - they're always interested, always asking how well we're doing, so it's been a great experience so far," added Adamson.
"The step up's been great, it's the only way we can improve. The standard is quite a bit higher, especially when you play the top three or four teams, but we've managed to compete in every game we've played."