Newport County: Ben Tozer and Jack Compton free to leave, says manager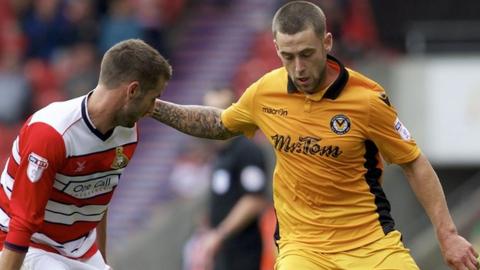 Newport County midfielders Ben Tozer and Jack Campton have been told they are free to leave the club.
Manager Graham Westley confirmed he does not want to retain either player and is hopeful of making two signings before Saturday's game at Barnet.
County are bottom of League Two - six points from safety in spite of their 1-1 draw with Colchester.
"Ben Tozer's been told he can leave the club and Compton's been told he can go as well," said Westley.
"There's a few lads who are aware that they are not going to be playing a part in what we do going forward, and the best thing is that they find somewhere else to play their football."
Westley has already made nine signings during the January transfer window.
"Talks are ongoing and there's a couple who may come through before the weekend, but they won't affect selection this week," added Westley.
The former Peterborough Preston North End boss suggested there will be more players brought in later this month - "good quality, experienced lads towards the end of the window," he said.