Neil Warnock hopes Cardiff win at Bristol turns Tan's head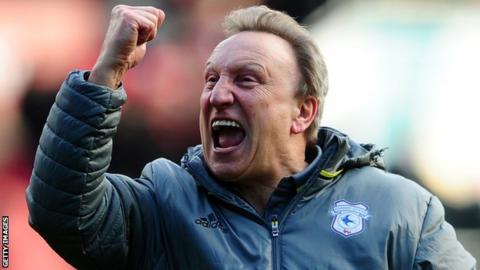 Manager Neil Warnock hopes Cardiff City's dramatic win over Bristol City will encourage owner Vincent Tan to back his plans to launch a fresh bid to reach the Premier League.
The Bluebirds saw off Bristol City 3-2 in the Championship at Ashton Gate to move clear of the relegation zone.
"He (Tan) will be as happy as anybody when he sees the result," said Warnock.
His first face-to-face meeting with Tan has been brought forward to Saturday night from Sunday.
Warnock added: "We are just going to have a chat about the club in general.
"It's an update, what we need to take the club forward and to see what is available really.
"Long-term, we need five or six players really in the squad, but short-term I think we need two, maybe three."
Bluebirds showed determination to fight back twice and took all the points thanks to a fine strike from Anthony Pilkington with five minutes left.
'Cardiff showed character' in comeback
Warnock had nothing but praise for his men, saying: "I thought they were super.
"We had a couple of kicks in the teeth. I thought we were playing well at 1-1 and then we conceded a sloppy goal and it showed the character of the team to come back again.
"The third one was surely as good a goal as Pilkington has scored, although he'll probably tell me he's got more of them. It was a super strike, good enough to win any game.
"You could see what it meant to the lads the way they all congratulated him.
"It's a tough derby so to come out on top with three goals I think the fans will have gone home happy.
"Winning at Bristol City is always nice for me. You've got to work hard to win here and we have done."