Rotherham United: Mike Pollitt rejoins club as goalkeeper coach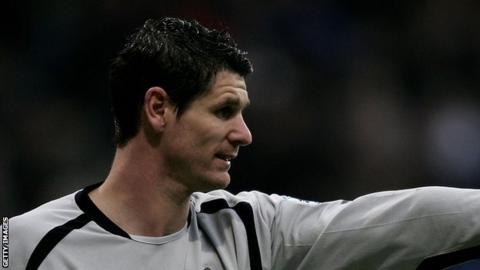 Rotherham United have appointed former goalkeeper Mike Pollitt as goalkeeping coach, replacing Andy Dibble.
The 44-year-old will work alongside ex-team-mate and caretaker manager Paul Warne.
"I'm buzzing to have him here. He's a big character, he's infectious, funny and energetic - everything I like in my staff," Warne told the club website.
Pollitt will be in the dugout on 14 January when the Millers host Championship rivals Norwich.
The former keeper spent two spells at Rotherham from 1998 to 2000 and 2001 to 2005.
"He's part of the fabric of this club and has spent as many years here as me. He's a big part of the club's history and I hope he'll be a big part of the future," Warne said.
However, the most successful period in Pollitt's career was at Wigan Athletic, playing in the Premier League and helping the side to the 2006 League Cup final.
After retiring from professional football in 2014, Pollitt worked as Wigan's goalkeeping coach until late 2016.