Manchester City charged by FA over anti-doping rules
Last updated on .From the section Football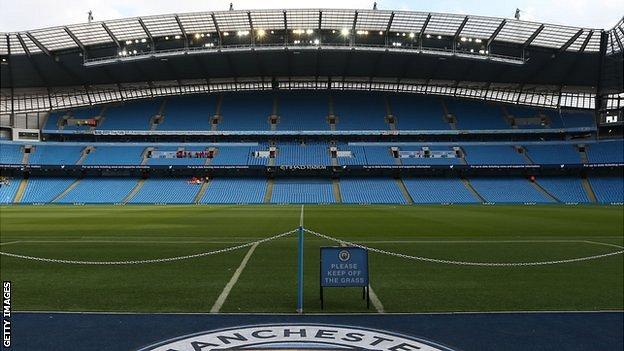 Manchester City have been charged by the Football Association for failing to ensure anti-doping officials knew where players were for drugs testing.
Clubs are required to provide accurate details of training sessions and player whereabouts so that they are available for testing at all times.
The club has allegedly failed to ensure its information was accurate on three occasions, leading to the FA charge.
City have until 19 January to respond to the charge.
It is understood the information was not updated following a change to training routines.
The FA operates a 'three strikes' policy for such breaches, for which the most likely punishment is a fine.
Analysis
Simon Stone, football reporter
The FA operates a "three strikes" policy in relation to breaches of 'club whereabouts' information.
It is a rather complex system which covers, in Manchester City's case, first-team, Under-23s and Under-18s.
By 10:00 GMT on a Monday, clubs must have told the FA where their players are going to be for the remainder of that week.
The information includes training times, days off, travel, home addresses and hotels.
Should the information - training times or days off for instance - change during the week, the FA has to be notified.
UK anti-doping officials are then entitled to turn up, at random, to carry out tests.
If the player or players are not at the location they are supposed to be, this constitutes a breach.
The club are made aware of this and after three breaches, the FA will issue a charge.