Morecambe: Peter McGuigan opens up on Diego Lemos issues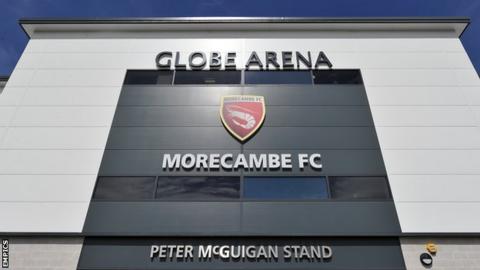 Morecambe are "staggered" by the actions of Brazilian businessman Diego Lemos since he took over the League Two club, says chairman Peter McGuigan.
McGuigan was previously owner but sold his shares to Lemos in September.
Since then, there have been financial issues including wages being paid late and the club are also operating under a transfer embargo.
Co-chairman Ali Abdulrahman Al Hashemi and director Nigel Adams have left because of the current situation.
In an interview with BBC Radio Lancashire, McGuigan also revealed that:
He has only been paid "a little bit" for his shares from Lemos, not the full amount
They are getting support from creditors and the banks over their financial situation
Despite leaving his position as co-chairman, Ali Abdulrahman Al Hashemi is helping the day-to-day running
Ali Abdulrahman Al Hashemi has put money into the club to help
They have not seen or heard from Lemos in eight weeks
"The board are aware of it all now and are absolutely staggered about what has happened," said McGuigan.
"That is a private matter we can't go public on - what we can go public on is he hasn't put a penny into the club.
"There is no hope, in my opinion, of any money coming in and we've got to manage it ourselves."
Asked if he looked in the mirror about what he has done, McGuigan responded: "Yes, probably about 30 times a day. When it comes out as to what happened, nobody could've done it any differently - let me reassure you of that."
BBC Radio Lancashire have made numerous attempts to contact Lemos since early November, but have not received a response.