Henri Lansbury: Philippe Montanier says midfielder's future out of his hands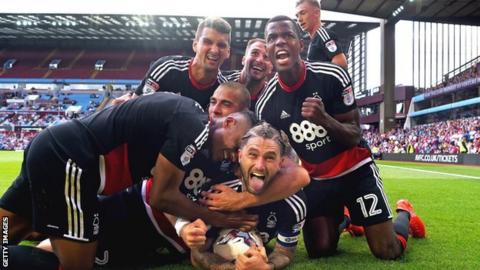 Nottingham Forest head coach Philippe Montanier says it is not his decision whether Henri Lansbury will remain at the City Ground.
The Reds rejected an offer of more than £2.5m from Derby for the 26-year-old former Arsenal midfielder, who has scored six goals this season.
Montanier admitted other clubs have bid for Lansbury, but did not name them.
"We've had an offer but it's not me who makes the decision to sell him," he told BBC Radio Nottingham.
"He's my captain and the best player on my team. It is confidential but we have received offers from teams.
"I know in football some situations are difficult when a player receives a big offer and it is then difficult to play 100%."
Montanier said Lansbury, whose contract expires in the summer, will play no part in Saturday's FA Cup third-round tie at Wigan Athletic because of a hamstring injury.
He suffered the injury in the pre-match warm-up ahead of their 3-0 loss to Derby on 11 December.