Pierre-Emerick Aubameyang explains his t-shirt and cap at awards ceremony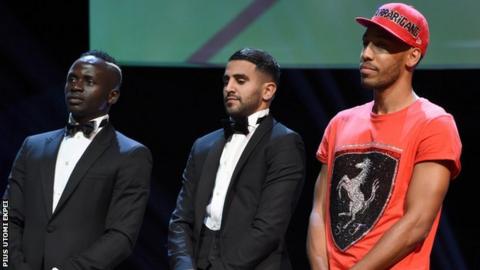 Gabon striker Pierre-Emerick Aubameyang has explained why he attended the Confederation of African Football awards on Thursday in casual clothes.
Aubameyang drew criticism on Twitter for wearing a sports cap and t-shirt.
"When you arrive for the ceremony.... and they lost our baggage!! So that's how we dress tonight. Thanks Lufthansa," he wrote on Instagram.
Fellow player of the year nominees Riyad Mahrez, who won, and Sadio Mane were dressed in formal suits.
Leicester winger Mahrez became the first Algerian and first North African to win the award since it began in 1992.
Borussia Dortmund striker Aubameyang was runner-up with Senegal and Liverpool striker Mane third.
Caf spokesman Junior Binyam added: "Aubameyang only arrived at the Hilton Hotel in Abuja an hour before the event without his bags, as they were missing in transit. That was why he dressed that way."