Trinity Shield: Non-Jersey born players could be allowed to play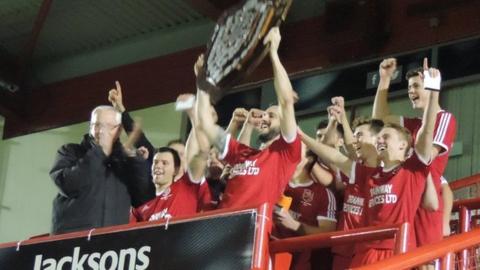 Non-Jersey born players could be allowed to play in the Trinity Shield.
The Jersey Football Combination, which runs the event, is to discuss ways of improving the oldest tournament in Channel Island football.
The inter-parish cup is open solely to players born in Jersey who play for either the parish they live in, or were living in, when they were born.
But this season a number of parishes have been unable to raise sides, including semi-finalists St Peter.
They suffered a number of injuries after their quarter-final win over Grouville on 27 December and were unable to play the semi-final against St Saviour two days later.
Possible Trinity Shield eligibility options
Keep status quo - allow only Jersey-born players to play
Allow players who have spent a set number of years living in the island to play
Open up to any players who were educated in Jersey and/or grew up on the island
Allow anyone with Jersey housing qualifications to be eligible (currently 10 years residency)
Open to anyone living in the island on a set date
"There is a restriction on this tournament at the moment and it's coming back to bite us," Jersey Football Combination president Charlie Browne told BBC Radio Jersey.
"There are a lot of players in our Premiership and Championship that are young enough to play in this tournament, and they want to play.
"One player came to the island when he was one month old and he can't play in this tournament, that's ludicrous isn't it?"
The tournament, which began in 1895, is traditionally played over the Christmas period, and sees players from different clubs coming together to play for their parish sides.
St Brelade won the title this year, for the third consecutive season, and the parish manager Ben Naylor says there should be some restrictions on who can and cannot take part:
"There will have to be certain rules, I don't think someone could come over for a few weeks and pick whatever team they want to play for.
"Maybe it could be people who went to school in Jersey - there's an example of one brother being able to play because he was born here, but another can't because he wasn't born here.
"Everyone's got a lot of ideas, but it's got to be the right one. I think it's quite a prestigious tournament and hopefully it can improve."