Irish Premiership: Bradley leaves Glenavon for Coleraine return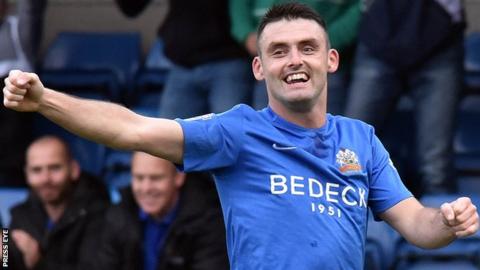 Glenavon have confirmed the transfer of striker Eoin Bradley to his former club Coleraine.
The 33-year-old joined the Lurgan Blues at the start of the 2014/15 season and scored 40 goals in 91 appearances.
"Coleraine are getting a wonderful player in Eoin and Glenavon have done a good bit of business as well," said Glenavon player-manager Gary Hamilton.
"I think Eoin will be happy enough that he's got his move to Coleraine where he started out."
Bradley was a key player for Glenavon and helped them to an Irish Cup success last season.
Hamilton explained that Coleraine made an offer for Bradley and it was accepted after discussions with the player and club chairman.
"First and foremost I'd like to thank Eoin for everything he's done for us over the last couple of years because he did score a lot of important goals for us and led the line really well," Hamilton told the club website.
"I'm sad to see him go but we're happy with the piece of business that we've done - for everybody I think it's a good move."
Glenavon signed former Northern Ireland forward James Gray last week while fellow striker Kevin Braniff was transfer-listed by the Mourneview Park club.