Chris Martin: On-loan Fulham striker will not return to Derby early - Jokanovic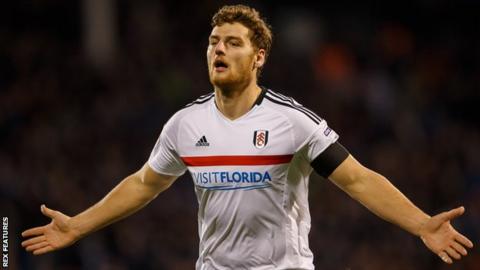 Fulham manager Slavisa Jokanovic has dismissed reports that striker Chris Martin could return early to Derby from his season-long loan at Craven Cottage.
Martin, 28, has scored seven goals in 17 appearances for Fulham in the Championship this term.
He "made himself unavailable" for Friday's abandoned game at Reading, but Jokanovic insisted he would stay.
"I'm not going to send him back to Derby - he's going to stay with us and respect the contract," said Jokanovic.
"He stopped in training, but I have information from the medical staff that he is available to play. He decided to take a day off."
He continued to BBC Radio London: "We're not a train station, you can't come in and out when you want. We need to respect ourselves, we are the oldest London club.
"I don't know if he will play for Fulham, but I'm sure he's not going to play for Derby."
Earlier this month, Derby manager Steve McClaren said he was surprised Martin was allowed to leave the club under previous boss Nigel Pearson.