Garth Crooks' team of the week: Courtois, Reid, Hazard, Pogba, Ibrahimovic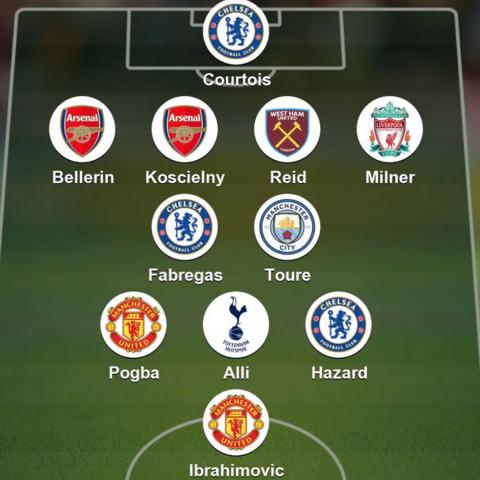 It was the week when Chelsea won their 12th straight Premier League game and Swansea parted company with Bob Bradley following a heavy home defeat by West Ham.
Antonio Conte's side put three unanswered goals past Bournemouth to stay six points ahead of Liverpool, who beat Stoke 4-1. There were also wins for Manchester City and Arsenal, over Hull and West Brom respectively.
The Swans are on the search for a third manager of the campaign after a 4-1 home loss to the Hammers, which left them in 19th place in the table.
Fortunately for the Welsh side, the only side in the bottom six to pick up a point were Crystal Palace, who drew 1-1 at Watford in Sam Allardyce's first match in charge.
Do you agree with my team of the week? Or would you go for a different team? Why not pick your very own team of the week from the shortlist selected by BBC Sport journalists and share it with your friends?
Pick your Team of the Season
Pick your XI from our list and share with your friends.
Goalkeeper - Thibaut Courtois (Chelsea)
It's now 12 wins and counting and the Blues go marching on. I resisted selecting West Brom's Ben Foster who almost singled-handedly earned the Baggies a point at Arsenal, but the fact of the matter is you simply can't put a price on a clean sheet.
Chelsea may have dominated this game but the few saves Courtois made after long periods of inactivity demonstrated why the keeper is right back on top of his game again. The shot from Jack Wilshere could have been enough to destabilise my new favourites for the title (sorry Jose, I've jumped ship) but the Belgium international was equal to it.
Make no mistake, he is a top class keeper and the reason why Chelsea are boasting another clean sheet. However, Chelsea be warned. Club records will count for nought at the end of the season if they can't finish the job and win the league.
Defender - Hector Bellerin (Arsenal)
West Brom at home was a must-win game for Arsenal after two disappointing performances against Everton and Manchester City and the Gunners had to dig deep. For all of Arsenal's intricate passing, a team doesn't dominate a game or show how brilliant they are by the number of touches they have on the ball. The game has always been about putting the ball in the back of the net.
Bellerin is a defender but one who does as much as any player on the field to affect the score line. Arsenal are always better when he's in the side. Constantly raiding down the right-hand side of West Brom's defence, the Spaniard was instrumental in helping Arsenal grind out a 1-0 victory.
Is it any wonder Arsene Wenger is so delighted to have recently signed Bellerin on a long-term contract? The Arsenal manager has firmly slammed the door shut in the faces of suitors Barcelona and Bayern Munich.
Defender - Laurent Koscielny (Arsenal)
I have always had reservations about Laurent Koscielny. He is an excellent player on his day but he can also be very unpredictable. I have seen him have some magnificent games for club and country and then suddenly do something utterly inexplicable. This could materialise in a sudden lunge on an opponent in his own box, a two-footed tackle or an off-the-ball incident. Whatever it is it always comes at a price to his teams.
Yet when he's on top of his game he can be one of the best central defenders around. Against West Brom, he was the consummate professional. He was cool, calm and collected at the back and it was just what Arsenal needed in what was rapidly becoming a tricky fixture for the Gunners. If he can stay fit and remain in this frame of mind he, and not the stars up front, might transform Arsenal's bid for the title.
Defender - Winston Reid (West Ham)
Reid's goal was important but his overall contribution for the Hammers was immense. He never gave Swansea an inch.
Whatever the player may lack in quality he makes up in droves with commitment and desire. Reid and Mark Noble have arguably been West Ham's most consistent performers this season.
As for poor old Swansea? Well I was of the opinion that Bob Bradley didn't have the qualifications to do the job in the first place. However, he appeared to be a thoroughly decent man who deserved a little more than Swansea fans were prepared to give him. Chanting 'we want Bradley out' did nothing to enhance the team's performance or the reputation of their fans and frankly they didn't have to be so mean. Bradley deserved more but the fans got what they wanted and Bradley has gone. Who do the fans want now? Ryan Giggs? Is he ready?
Defender - James Milner (Liverpool)
James Milner seems to be getting better at left-back each time I see him. The last time the former England international was in my team of the week I was extolling the virtues of his penalty taking under pressure. This time it is his leadership qualities and commanding presence that have captured my attention.
After the Liverpool debacle against Burnley earlier in the season I accused Milner of being a square peg in a round hole. The right-sided midfielder has become a left-back of prominence since then having replaced the exasperating Alberto Moreno. Milner has also brought calm and stability to what is still a very fragile defence. Liverpool may have brushed Stoke aside by four goals to one but do not be fooled. Short of Milner Liverpool are woefully short in certain defensive areas including their goalkeepers. If Reds manager Jurgen Klopp seriously thinks he can win the Premier League title with a defence like that then he's deluding himself.
Midfielder - Cesc Fabregas (Chelsea)
It is at times like this that managers observe those players who are not making the team on a regular basis but who nevertheless have a role to play if their attitude remains right. Cesc Fabregas has been central to so many successful campaigns over the years and it must be rather difficult to accept that your services are not in the same demand as they once were.
Nevertheless, Fabregas has accepted this fact with amazing grace and produced some outstanding performances for Chelsea when called upon. The game against Bournemouth was one of those fixtures. This must be in part down to Antonio Conte who is displaying some remarkable man management skills.
Against Bournemouth Fabregas was responsible for instigating many, if not most, of the attacks Chelsea enjoyed on the day. Given room, the Spaniard will kill you with his passing ability. Unfortunately for Bournemouth that's precisely what he did.
Midfielder - Yaya Toure (Manchester City)
The born again, leaner, fitter Yaya Toure controlled the tempo of the game against Hull. His penetrating passes split the home side open more times than I can remember. Liverpool may have James Milner when it comes to taking penalties but you can't find a more composed or reliable spot-kick taker in a crisis than Yaya Toure.
It was the Ivorian who broke the deadlock that finally helped Man City to totally subdue Hull.
Meanwhile Pep Guardiola, who audaciously left Toure out on a matter of principle earlier in the season, insists that it will be tough for City to catch Chelsea. Who does he think he's trying to kid? He may say that to us publicly but he knows that football is so unpredictable that anything is possible in a title chase. Just ask Liverpool's Steven Gerrard.
Midfielder - Paul Pogba (Man Utd)
I have now come clean and stated that I have changed my mind about who will win the title. I originally put my faith in Jose Mourinho and got caught in the hype around Paul Pogba without realising that not even these two geniuses could turn Manchester United into the force they once were overnight. That said, United are starting to look good and so is Pogba.
Against an outclassed Sunderland he was commanding. I must also admit that I have been a little hard on the young man and focused a little too much on the fee and not on the emerging talent. Pogba is only 23 and while I don't see a Bryan Robson or a Roy Keane (yet) there is still time.
What I do see, however, is a player coming to terms with the stage.
Midfielder - Dele Alli (Tottenham)
Tottenham's win at Southampton was a game seriously affected by the poor judgement of referee Mike Dean but that wasn't Dele Alli's fault. This player is looking imperious in front of goal these days. His first goal was a header that Andy Carroll would have been proud of and his second had the sort of clinical finish one would associate with Andy Cole. Spurs have needed a player like Alli to take some of the goalscoring responsibility away from Harry Kane, and the young international is doing so with great aplomb.
However, as much as I really don't want to talk about Mike Dean again I'm starting to think that after his performance in Tottenham's demolition of Southampton the much heralded referee should seriously consider his position. He decided to send Nathan Redmond off for a clumsy trip which clearly impeded Alli when a penalty was punishment enough. To send the player off was cruel, bearing in mind Redmond had originally fouled the player outside the box. Once again Dean ruined a perfectly good contest with his over-officious nonsense. Thank goodness Alli saved the day with two moments of sheer inspiration.
Midfielder - Eden Hazard (Chelsea)
In the absence of Diego Costa you might have thought that other strikers like Michy Batshuayi might have been given a game. But if you are Antonio Conte and you understand the mentality of your players and garner respect from your players you can get them to do almost anything.
Eden Hazard seems to be in a place where if Conte were to ask the player to play in goal the answer would probably be 'yes boss'. Conte appears to have total control over his players at this moment.
To see Hazard play up front as the lone striker was quite remarkable. However what was even more troubling was the way the Belgium international did it with so much ease. Someone better tell Alan Shearer we have found another world-class player in the Premier League!
Forward - Zlatan Ibrahimovic (Man Utd)
Another world-class striker strutting his stuff in the Premiership. Zlatan Ibrahimovic may talk a great game but by golly can he back it up as well. He has this extraordinary ability to execute his work at his own tempo and make it look easy. No one currently seems capable of taking him out of his stride.
He scored one and set up two others in the 3-1 romp over Sunderland. Only Lionel Messi has scored more goals in 2016 which tells you all you need to know about this player.
As for the Black Cats, I was rather taken by David Moyes' comments prior to his return to Old Trafford. The former United boss felt that Manchester United had lost their traditions and no longer investing in English managers or English players. I think Mr. Moyes is confusing tradition with progress.
Owners invest in successful managers and it's a long time since an English manager was successful on the domestic or international scene and Ashley Cole, Frank Lampard and Steven Gerrard have all left the scene.