Darren Jones: Newport midfielder should not be blamed for defeat - Westley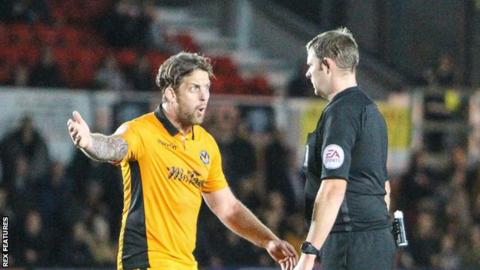 Newport County boss Graham Westley says midfielder Darren Jones should not be blamed for their FA Cup second-round replay defeat by Plymouth Argyle.
Jones brought down David Goodwillie in extra time and Graham Carey scored from the spot to give Argyle a 1-0 victory.
If the Exiles had won, they would have earned up a third-round tie away to Premier League giants Liverpool.
"It's really important that he walks away with his head held high. I thought he was excellent," Westley said.
"He made an error, it led to a chance, they scored from that chance through the penalty but there were many players that could have won or lost the game with little errors.
"It's important the focus doesn't go on his head."
Westley's side, who are currently bottom of the EFL and four points adrift of safety, earned a replay courtesy of a goalless draw away at Plymouth on 3 December.
A potential televised tie against Liverpool could have given the club a substantial financial windfall, but despite missing out, Westley was impressed with his side's performance against the League Two leaders.
"We would have loved to have gone through for the occasion and finances. God knows the club needs it, but to push it to one side and say right it's the league now, we have to go and win points," he told BBC Radio Wales.
"The performance in the replay shows we've come a long way forward. The game at their place was played with discipline, organisation and focus and the game here was played with the same ingredients.
"We've shown when we've got that, we can be more than a match for the top team in the league. Over 180 minutes, we got two 0-0 draws."